Skyjack to show updated units at ARA Show
By Lindsey Anderson15 January 2020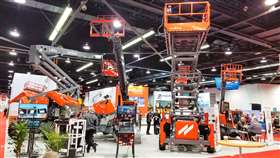 Skyjack will use The ARA Show, Feb. 10-12 in Orlando, to showcase a range of updated products, the company announced.
"Much of what we'll cover at The ARA Show's press conference will inevitably be about the new ANSI standards, our focus is on showing enhancements we've made outside of what's mandated to produce a range that helps rebalance the ROI equation," said Ken McDougall, president at Skyjack. "Some paths to ANSI compliance have driven increased cost, so we've tried to mitigate that as much as possible. We're focused on showing how Skyjack has delivered compensating cost of ownership improvements for rental companies."
"We have been eager to fully roll out the next generation of DC scissor lifts for some time now and so we're excited to have a fleet of sale-ready next generation equipment on stand at The ARA Show," Malcolm Early, vice president of marketing at Skyjack, said. "We're bringing an assortment of scissor lifts, both DC and rough terrain, as well as showcasing updates to our booms for the first time at a show."
Similar to its DC and rough terrain scissor lifts, Skyjack booms have also undergone a transformation for the 2020 market. Skyjack's 40-foot and 60-foot booms will now boast increased capacities and feature a dual-module control system integrated with Skyjack's SKYCODED color-coded and numbered wiring system.
"The new SKYCODED control system enables our machines to better communicate with our ELEVATE telematics solution," Early explains. "The enhancements made on our machines directly translate into enhanced data delivered by telematics. In fact, some of that data leads to ground-breaking digital products and we'll be announcing exactly what those entail at our February 10th press conference."