Skyjack touts new technology, equipment
By Lindsey Anderson08 April 2019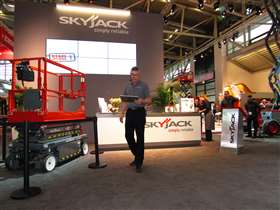 Skyjack showcased its updated DC scissor lift line at Bauma. The company also brought its SJ9253 RT, the tallest scissor in its line, for its European debut.
"Our team updated our full-size rough terrain scissor lifts in conjunction with Stage V Emission Standards and produced our largest scissor lift to date," said Brad Boehler, president at Skyjack. "We also have our next generation of DC scissor lifts at the show, so we wanted attendees to be able to be inside and comfortable as they walk around our new products."
The SJ4740 DC electric scissor lift was the first of the next generation lifts Skyjack had on stand. The changes made to the next generation machines help create a more globally aligned range, and Boehler said that by the end of 2019, all DC electric scissor lifts will feature new control boxes, single location emergency lowering switches, adjusted pothole protection, new SKYCODED diagnostic display and a more rigid scissor stack.
The company also had its SJ9253 RT on display, which will soon have a larger sibling – the SJ9263 RT. The RT line is rounded out by the SJ9233 RT and SJ9243 RT models.
"Skyjack's full-size rough terrain scissor lifts have kept up with standards over the years but haven't had many major adjustments since they were introduced," Skyjack product manager Corey Connolly explained. "The European Stage V Emission Standards gave us the opportunity to take a step back and see how we can increase utilization and demand for our customers."
Skyjack is coming off another record year, Boehler said. Parent company Linamar's industrial segment, made up mostly of Skyjack, saw sales up 69.7 percent and operating earnings up 119.1 percent due to the acquisition of MacDon and market share gains at Skyjack.
ALH is sitting down with Boehler later this week to discuss the market and more. Stay tuned to KHL.com for a full report.