Sleipnir sets 15,300 tonne lift record
By Alex Dahm09 September 2019
Heerema's Sleipnir crane vessel made a record 15,300 tonne lift over the weekend of 7 and 8 September.
Sleipnir was used to install a topsides module for the Noble Energy Leviathan gas field development in the Mediterranean Sea off the coast of Israel. Dutch marine contractor Heerema, owner of Sleipnir, claimed it as a new world record lift by a crane vessel. It was the larger of two main topsides lifted in by Sleipnir. Total weight was 24,500 tonnes. Both lifts were completed in less than 20 hours, Heerema said.
Koos-Jan van Brouwershaven, Heerema CEO, said, "We are very proud of this achievement. Sleipnir is a unique vessel. It is LNG powered and thus climate friendly. And our client enjoys the benefits. Because lifting larger modules means less time involved and therefore a smaller budget will suffice for a job."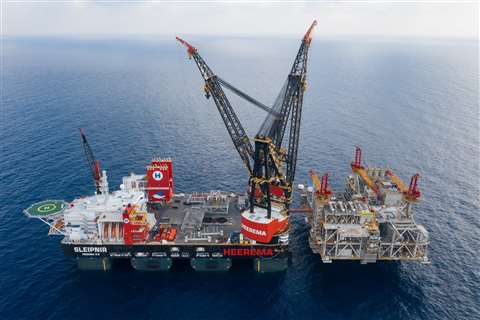 Sleipnir is a new semi-submersible super heavy lift crane vessel with capacity of 20,000 tonnes on two revolving cranes. It is used to install and remove large modules. For installation there is less time needed working offshore with complete modules because they have already been commissioned. It saves time and money.