Slight drop in GB output
By Sandy Guthrie12 January 2017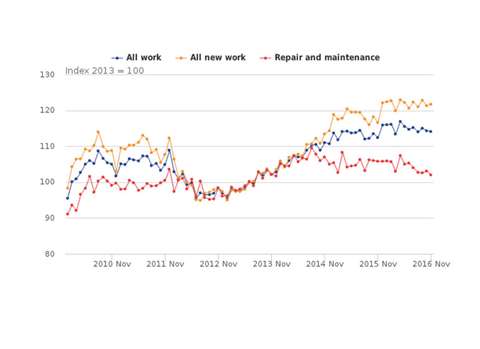 A fall in Great Britain's construction output of 0.2% has been recorded in November 2016, compared with October 2016, which is largely being attributed to a contraction in non-housing repair and maintenance.
The figures from the Office for National Statistics (ONS) are said to show that the underlying pattern as suggested by quarter-on-quarter movement shows a slight contraction of 0.1%.
Repair and maintenance has provided the greatest downwards pressure on construction output, falling both on the month and year.
Brighter spots, however, included new work, which increased in November 2016, with new housing output continuing to grow.
The monthly business survey collects output by sector from businesses in the construction industry within Great Britain. Output is defined as the amount chargeable to customers for building and civil engineering work done in the relevant period, excluding VAT and payments to sub-contractors.
In November 2016, construction output's fall of 0.2% follows a month-on-month fall of 0.6% in October 2016. The ONS said that as the monthly figures showed how volatile construction output could be, the rolling quarter-on-quarter time series provided a picture of the underlying trend within the construction industry.
It said this showed that construction output contracted by 0.1% following a similar pattern for recent months in that construction output had been relatively flat.
Longer term
Over the longer term, ONS figures show that through to mid-2014, new work, and repair and maintenance had followed a similar pattern, but that since reaching a peak in August 2014, repair and maintenance had slowly contracted.
Over the same period, new work continued to increase, largely thanks to a rise in new housing work. However, the contraction in repair and maintenance provided a downwards drag on new work, it said.
This longer-term trend was again seen in the monthly growth rates for November 2016, where new work increased by 0.3%, and repair and maintenance contracted by 1.1%. When compared with November 2015, new work increased by 4.4% in November 2016 while repair and maintenance decreased by 3.6%.
The ONS said that it was worth noting that new work accounted for approximately two-thirds of all work, while repair and maintenance accounted for approximately one-third.
In November 2016, non-housing repair and maintenance provided the largest downward contribution to growth.
Despite the overall fall in all work in November 2016, new housing continued to grow at an increasing overall rate of 1.2% in comparison with October 2016, which the ONS said represented the biggest increment since February 2016. This has resulted in housing output reaching an all-time high of £2.64 billion (€3.04 billion), it said.
The increase in housing was said to have occurred in part as a result of a rise in public housing, which recovered from negative growth in October 2016 to increase by 5.5%. There was an increase of 13.7% compared with the same period a year ago, the largest month-on-year growth rise since December 2014.
The ONS said this high level of growth came as the government has been committing to "drive up the housing supply" by providing £8.0 billion (€9.23 billion) to deliver over 400,000 affordable housing starts by 2020.
In addition, private sector housing continued to grow at a steady month-on-month rate of 0.6% compared with October 2016, it said.
However, as with public housing, the private sector has experienced large growth in relation to the same period last year, at a rate of 12.5% which has been broadly consistent throughout 2016. The ONS said that this might be in part a result of historically low interest rates facilitating borrowing for construction firms, coupled with the loosening of private housing planning restrictions.
Construction products
A recent state of trade survey from the UK's Construction Products Association (CPA) suggested that construction products manufacturing in the UK grew for the 15th consecutive quarter in the last quarter of 2016.
Rebecca Larkin, senior economist at the CPA, said, "Overall weakness in official construction output data looks to have persisted in the final three months of 2016, which stands in contrast to other industry surveys."
She said one common theme reported in recent months was the outperformance of private housing relative to other sectors such as commercial, industrial, and repair and maintenance.
"Activity has no doubt been sustained by government support measures such as Help to Buy, strong growth in house prices, and the availability of low-interest mortgages."
She said economic and political uncertainty was expected to intensify this year and combined with rising inflation denting confidence, meant that similar growth rates in private housing in 2017 were unlikely.
"Public housing, on the other hand, increased 5.6% in November," she said, "and while monthly data can be volatile, this could signal a pickup in public sector house building after activity has been disrupted by two years of changes to funding programmes."