When specialist contractor Kent Demolition approached Inmalo for a small shear which could work in a confined internal space on a mini excavator, it knew that there would be some serious modifications required.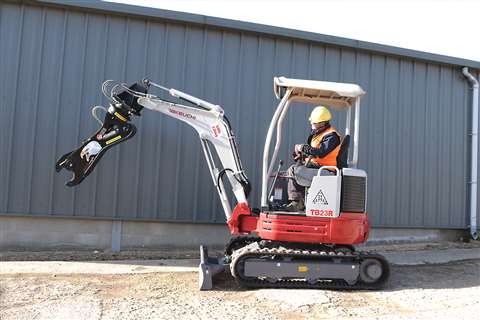 This MBI SH25 shear is normally fitted to 5-7 t machines, however Inmalo's engineering team modified the Takeuchi TB23R by removing the dipper arm and manufacturing its own custom bracket to hold the shear directly to the boom.
This also involved fitting a new auxiliary hydraulic circuit and re-mapping the hydraulic system to the excavator controls to provide the full 360° rotation and control functionality of the tool.
"We're not averse to these technical and mechanical challenges and our engineering team will try to find a solution which brings together the right tool for the right machine," said Inmalo's Charles Polak.
"Kent Demolition had carrier limitations as well as the confined working area within a retail store, so weight and size was an issue from the start. The challenge was to develop a suitable platform which wouldn't compromise the power and size of the shear required to complete the job."
Inmalo has also announced that it is now exclusive United Kingdom dealer for MB Dust Control's extensive range of fan powered spray cannons.
The MB range offers a selection of units to suit various site requirements, including self-contained systems that will run alongside Inmalo's existing Motofog systems.