Small stature, big appeal
Across North America, compact telehandlers are changing the way jobsites function and how agriculture processes work.
The little movers and placers are some of the most versatile machines on the market, so they are used in a wide variety of applications. According to Josh Taylor, Genie product manager, Terex AWP, the machines have their roots in the European agriculture market but quickly built a following in North America in the early 2000s. Compact can be used to unload trucks, move material around jobsites, place material at height and even do some light material handling with a bucket.
"Contractors can buy a range of machines to lift, move and place materials, or they can save money with one highly advanced multi-purpose tool — a telehandler," Taylor says. "Compact telehandlers provide material handling solutions on the tightest of jobsites at a price point that is attractive to fleet managers and end users."
Two companies that just debuted new compact units to the market are Snorkel and Xtreme Manufacturing
"Compact telehandlers, while common in construction applications, are becoming more widely utilized in agricultural applications, such as farming," says Matthew Elvin, Snorkel and Xtreme Manufacturing's chief executive officer. "This is partly driven by an increasing range of attachments targeted to the agricultural sector, which is expanding the usefulness of a single piece of equipment. This becomes important in agriculture where much of the large equipment is purchased or leased, rather than rented."
At World of Concrete 2018, Snorkel showcased its Snorkel SR5719, which is geared toward the U.S. market. The Snorkel SR5719 can lift a load capacity of up to 5,732 pounds and can reach heights of up to 19 feet with a maximum forward reach of 10 feet, 4 inches. Designed to be competitive, Snorkel says, the SR5719 is an ideal lift for contractors, as it can be easily transported and delivers high levels of operator comfort.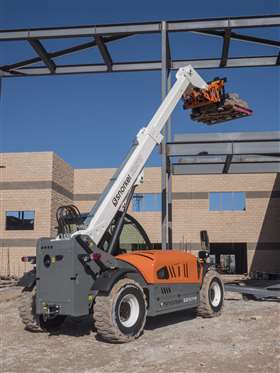 Powered by a 70.3hp Tier 4 Final Yanmar diesel engine, the Snorkel SR626 weighs 10,360 pounds. Compact dimensions make this model ideal for using in tight spaces, particularly on construction jobsites or in rental applications.
Xtreme Manufacturing also launched a new unit at World of Concrete 2018: the Xtreme XR630. The Xtreme XR630 can lift up to 6,000 pounds, reach up to 30 feet, 7 inches, and has a forward reach of 18 feet, 5 inches. Designed for an A-class carriage, the XR630 weighs 13,700 pounds and comes standard with a 74-hp Tier 4 Final Engine.
"Compact telehandler sales volumes are expected to continue to rise, based on increasing demand from the construction and agricultural sectors," Elvin says. "With many new large-scale residential projects, such as apartment and condo blocks planned for city downtown areas, we expect to see increased demand for compact telehandlers, as these jobsites are limited in space."
Compact telehandlers continue to fill a gap created by larger pieces of construction equipment that are no longer versatile in smaller working environments.
"With regards to the compact telehandlers, many improvements have been made to the hydraulic functions for attachments, enabling a wider range of attachments to be used with compact telehandlers, increasing their usefulness on the jobsite," Elvin concludes.
Big cab, little lifter
Another new compact telehandler was introduced just a few weeks ago by Skyjack at The Rental Show. The SJ519 TH was unveiled during the New Orleans-located event.
"Many compact telehandlers currently on jobsites in North America were designed with European industries, and European operators in mind," says Braden Spence, junior product manager with Skyjack. "The SJ519 TH was designed specifically for the North American market and features a class-leading cab size for ease of access for operators. For Skyjack, the launch of this product means that we now have the capability to compete in a whole new class of telehandlers."
The SJ519 TH offers a 5,500-pound lift capacity and a maximum lift height of 19.1 feet. With a fully
opening door, operators can access their cab with ease. At its maximum reach of 11.25 feet, the SJ519 TH can still lift a rated load of 4,400 pounds, Skyjack says. Also, all major service points are easily accessible.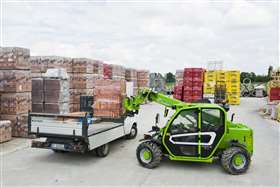 "When we started the design phase for this product we knew we wanted to maintain similar features with our existing telehandlers. It's Skyjack's consistency across products that adds to simplicity of service, and decreased downtime for our customers," says Barry Greenaway, product manager at Skyjack.
Skyjack says when designing the SJ519 TH, it was imperative for that the term "compact" didn't play a role in decreasing operator comfort. The cab on the SJ519 TH features a fully opening door, which enables operators to access the cab with ease, increasing total operator space that is virtually identical in cab size to the rest of our TH series.
Skyjack is a fairly new player to the telehandler market as the company just launched its telehandler TH series in 2015. Despite being a "new kid on the block," the company feels successful in the telehandler arena.
"We've seen strong growth within our first few years and have surpassed our initial three-year sales targets within the first 12-months of our launch," Spence says. "Looking forward, we're optimistic that we will continue to see strong demand for Skyjack's telehandler lineup and are excited that we are now able to offer a product in a whole new class with the launch of our compact SJ519 TH."
The SJ519 TH will be available in the third quarter of this year.
So why all the launches?
The small stature of the compact telehandler means the units have increased maneuverability on-site and can contribute to various tasks that their full-sized counterparts cannot. In agricultural and landscaping industries, or construction of a parking garage, for example, large telehandlers can be too heavy, or not flexible enough, to work effectively in these areas.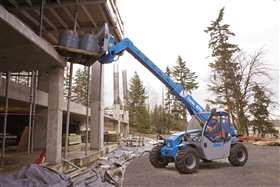 Compact telehandlers have started trickling their way into the North American market for nearly a decade, and manufacturers have recognized the growing demand for a product within a compact class.
John Boehme, JLG senior product manager of telehandlers, says residential, oil and gas and smaller jobsites have propelled the compact telehandler market.
"The compact telehandler segment is strong from what we're seeing," Boehme says. "When you're looking at AEM's numbers and classification, it seems to be one of the strongest, and fastest-growing segments for the last few years. It seems like there is a lot of interest for both ends of the scale – super compact and high-capacity units. This is likely due to the economy.
"Jobs are opening back up. When you figure what a super compact does, it can compete with larger skid steers. So, as the economy gets better, industries build from that. Because of a super compact's small stature, they provide advantages that skid steers don't. They give you reach and lift height. These smaller jobs are going gangbusters right now."
JLG's most-compact unit is its G5-18A, which features a maximum lift capacity of 5,512 pounds, maximum lift height of 18 feet and maximum reach of 11 feet. The unit has a tight turning radius and Tier 4 final Deutz engine to power it. A variety of attachments are available and a universal skid steer adapter makes the G5-18A able to use existing skid steer attachments.
Small and nimble
Austin Bailey, national sales manager for AMS-Merlo, says compact units are used in more applications than any other telehandler.
"This is due to their capability to pick, carry and place materials using a variety of attachments," Bailey says. "Plus, being small and nimble increases the ability to squeeze into places where other equipment cannot."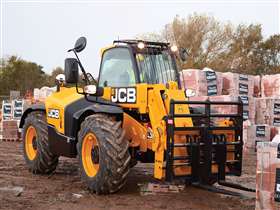 Some of the most popular applications for Merlo compact telehandlers are within the AG sector. Bailey says farmers use compact telehandlers for cleaning out poultry houses, stacking and moving hay, defacing silage with a defacer attachment and general maintenance around the farm. For the construction sector, some of the most popular applications for the compact telehandlers are with masons, framers, residential builders, metal building contractors, industrial plants, and job yards.
"There has been an increase in use of the compact telehandlers from farmers over the last few years," Bailey says when asked what has changed with the market over the past few years. "I think this is because farmers are coming to realize the extreme versatility of a telehandler and having one on their farm can possibly replace other pieces of equipment they have. Also, with the Merlo telehandlers we have ground engaging booms that are engineered to be able to withstand constant digging, or pushing, which is extremely important when being used in an agricultural application. Within the construction sector, this ground engaging capability just adds to the telehandlers value on a jobsite."
Bailey says one of the biggest trends with telehandlers – in general, not just compacts – is the improvement of safety features and devices on the machines.
"The two major points that telehandler manufacturers are trying to improve are visibility and overload protection systems," Bailey says. "With the Merlo telehandlers, the smart overload protection system and low pivot boom have always been built in from the start, so our customers have benefited for years, not just in recent times."
The newest compact telehandler from Merlo is the P27.6. This machine is a 6,000-pound capacity unit – with a total unladed mass of 10, 542 pounds – with a 20-foot maximum lifting height.
"Compact telehandlers have increased in popularity every year," Bailey says. "They are very affordable; they offer nimble maneuverability in tight areas and bring versatile capabilities to any application. Merlo telehandlers accept any number of attachments making them more useful in general for many companies across industry sectors."
First on, first off
Taylor with Genie says compact units are the longest-staying piece of equipment on jobsites.
"From the start of a job to the last day of cleanup, compact telehandlers can provide value on a worksite," Taylor says. "Used for unloading trucks, moving pallets of material, placing loads at height, and with a wide range of available attachments, they can even sweep and plow the jobsite. When the job is finished, a rubbish bucket attachment for collecting all the debris and putting it in the dumpster. These machines are so versatile and well-accepted across all parts of the market that it is difficult to pick out any change in application."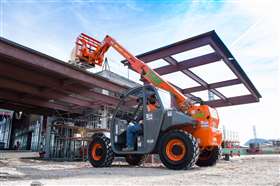 Genie's compact offering is the GTH-5519 which features 5,500 pounds of lifting capacity, a 19-foot maximum reach height and 11-foot forward reach. The Genie GTH-5519 is also equipped with a universal skid steer adapter attachment, which allows contractors to pull up and attach to a wide variety of skid steer type attachments in just seconds, reducing overall equipment costs and increasing the versatility of their fleet. The compact model is also equipped with constant-flow auxiliary hydraulics that can be used to mount and power attachments, such as sweepers or grapple buckets for jobsite cleanup, increasing this model's versatility and utilization on jobsites.
"The Genie GTH-5519 telehandler has maintained steady sales year-after-year, and demand continues to be strong," Taylor says. "We attribute this to the versatility of the machine, the value it provides to the users on the jobsite, and the excellent return on investment it provides to our customers."
Genie says the overall equipment market seems poised for a positive year, which will bode well for compact telehandlers.
"We anticipate it being a very healthy buying year for rental fleets in this category, and some additional volume as end users look to purchase their own units from our dealers.
Rebecca Yates, JCB product manager for material handers, says the compact telehandler is one of JCB's 59most-popular models. The company's smallest offering is the 505-20TC which can lift a total weight of 5,500 pounds and features a maximum lift height of 20 feet.
Steve Kiskunas, product manager – telescopic handlers for Manitou Group, echoes the popularity sentiment for compacts.
"We see an interest in the current sizes and also in what we would call the sub-compact size, which are even more compact with lower capacities and reach than the current compact units," Kiskunas says. "We believe there is a need for machines to move materials in restricted spaces and the benefits of a telescopic handler boom product has an opportunity."
Manitou Group sees strong sales for the four compact telehandlers that they offer– the Manitou MLT 625 (AG focus), MT 625, MTA 5519 Series III and the Gehl RS5-19 Gen:3. The company also launched a new attachment adapter plate that allows use of select skid steer attachments on the GEHL RS5-19 GEN:3 and MTA 5519 Series III units.
"We expect this increasing demand to continue through this year as activity in all construction sectors remains strong," Kiskunas says.
And while Haulotte doesn't offer a standard compact machine, the company tells ALH it is looking to develop a more compact machine to extend its offering.
"For simple jobs like moving load/material on a jobsite, compact telehandlers are perfect," says Maxime Girard, product manager – Americas for Haulotte. "It is becoming more and more important for rental companies to offer the right product to better answer construction needs. These telehandlers are going to become more and more popular. They are easy to use, compact, and perfect for maneuvering in congested worksites. They are like vertical masts or small electric scissor lifts for the MEWP industry."