Smart models from Xylem
By Thomas Allen09 April 2019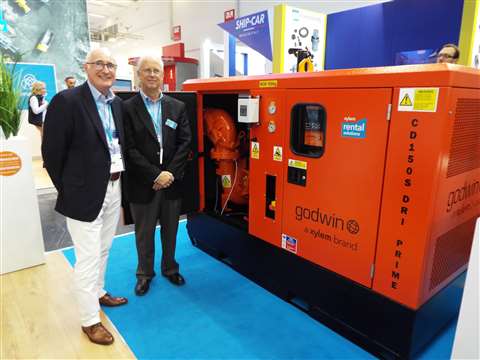 New and improved products from the Xylem portfolio of dewatering and flood protection pumps are at Bauma 2019, with the company claiming it was redefining toughness for the mining and construction industries, "allowing customers across Europe to dig deeper and build bigger". This comes as part of a strategy that started three years ago to revitalise the company's product line.
The new additions include the latest smart dewatering pump from Godwin's Smart Series. The new Godwin CD150S Dri-Prime pump has been specifically designed to combat the toughest mining and construction applications, claiming improved efficiency, increased flexibility and greater sustainability.
A key feature of the CD150S is that it has an interchangeable impeller - something that Xylem said it was the first to introduce.
The new dewatering pump can also be equipped with a new generation of Xylem Field Smart Technology (FST), Xylem's cloud-based telematics platform that enables the Internet of Things (IoT), and allows Xylem's customers to monitor and control the pump from anywhere in the world. It also has a new menu of subscription options so that customers can choose a payment plan that suits them.
Xylem's new FST platform is on display at the Xylem stand for the first time, with live demonstrations taking place throughout the Bauma show.
Kevin Snow, Godwin global product manager, said, "The new pump has been designed for performance, delivering a 15% improvement in fuel economy due to the enhanced hydraulics and 20% more uptime due to the better monitoring and control capability."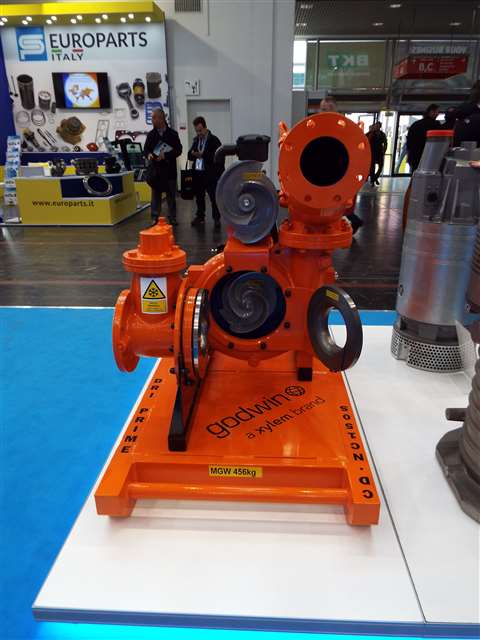 Jim Mowbray, international general manager at Xylem Europe's dewatering business, said, "The S series has set a new industry standard with its ability to easily handle the toughest mining and construction applications, and our latest innovation will certainly redefine toughness for our customers across Europe.
"Our newest dewatering pump offers increased hydraulic efficiency, greater fuel economy, and streamlined serviceability, and we are delighted to bring such customer benefits to market."
Mowbray added that the new model offered potential savings of up to US$700,000 over a five year period when compared to the previous CD150M model.
Xylem is also showcasing upgrades to its Flygt 2201 series, specifically designed for challenging dewatering applications. The patented DuraSpin hydraulic of the Flygt 2201 is claimed to have been proved to be three times more wear-resistant than traditional hydraulic designs, leading to improved serviceability and reduced maintenance costs.
Xylem is revealing its latest addition to the series, the Flygt Super High Head Cast Iron 2201, which has the capacity to pump up to 140m.
Xylem's presence at Bauma 2019 follows the launch of its new rental identity, Xylem Rental Solutions, earlier this year. Xylem claims to be the only global company operating in the dewatering and product treatment space that manufactures, rents, sells and services its equipment, giving its customers access to a broad range of market-leading dewatering and water treatment technologies and solutions.