Smart PALs step in next year
By Euan Youdale03 December 2014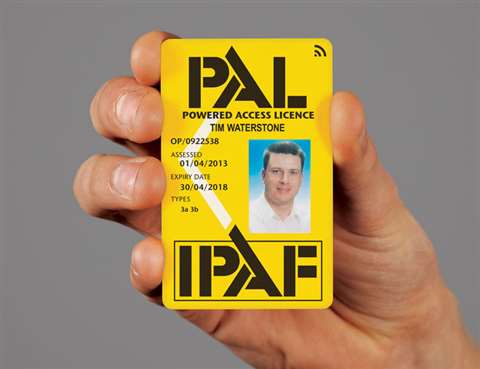 All PAL Cards issued by the International Powered Access Federation (IPAF) on or after 1 January 2015 will be machine-readable, i.e. Smart PAL Cards.
The move aims to improve site safety as Smart PAL Cards can be used to ensure that only trained operators can use mobile elevating work platforms (MEWPs) and mast climbing work platforms on site.
The card is marked by a wireless icon and has a chip embedded in it. The data stored on the card, such as the operator name, number and categories trained in, is also printed on it, which means that the Smart PAL Card can still be used as a standard version.
The data in the chip can be read by a card reader fitted to the machine. The reader can be set up to accept chosen data, for example level of training, machine categories, which in turn allows the machine to be operated. This means that a machine can be programmed to start only if the operator has had the correct training. It can also track who has used which machine for how long, and prevent fraudulent use.
"It is not compulsory to fit card readers on machines and the PAL Card (powered access licence) is a recognised qualification on many job sites," said IPAF CEO Tim Whiteman. "The smartcard technology brings more options and opens up possibilities to make machine access safer and machine use more secure."
PAL Cards are issued to operators who successfully complete the IPAF training programme after passing a written and a practical test. See www.ipaf.org/checkpal for more information.