Smart Shackle load measurement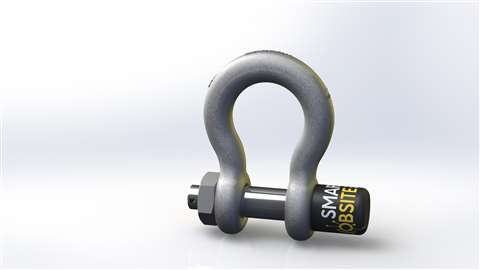 The Smart Shackle from Smart Jobsite is a key element of what is claimed as the world's first mobile-based, accurate load measuring system for cranes.
It is aimed at supervisors and site managers who need to remotely monitor or report activities on their jobsites. Lifts and loads are recorded using a cloud-based system. Smart Jobsite said most measuring systems require a dedicated device to read crane load measurements. Smart Shackle, however, works on iOS and Android smartphones, which is cheaper and more efficient, the company said.
Data includes monitoring and recording picks, tracking times and locations, plus charting the specific load, type of load and time needed to lift. Information is transferred to the cloud in real time. Multiple shackles can be displayed on one or more smart phones, allowing real-time supervision of tandem lifts.
Jean-Charles Delplace, Smart Jobsite CEO and co-founder, explained, "Smart Shackle is a game changer – and that's not a description we use lightly. We have created an extremely accurate load measuring device designed to be treated as a normal shackle would be; it's tough, rugged and can be mistreated as normal shackles are. It's transparent and accountable, meaning the user can quickly, easily and confidently manage critical information such as picks, location of load, type of load and length of lift. It works remotely, can be used to supervise tandem lifts on larger sites, is kilogramme accurate and is virtually indestructible."
Smart Shackle is water resistant up to 20 metres (IP68), dust resistant, drop resistant to 5 m and works with a 5:1 safety factor, the company continued. It doesn't need to be recharged and will last more than 10 years when used for two hours a day, the company claimed. Battery life is helped by the associated smartphone app which automatically powers the shackle on and off. A battery replacement service is available in cases of intensive use.