Snorkel and Xtreme advance service team
By Euan Youdale04 October 2016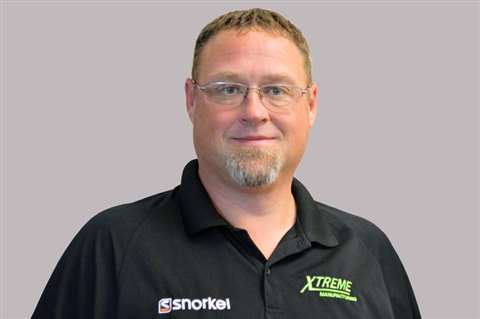 Following the recent appointment of Jamie Graham as vice president of product support for Xtreme Manufacturing and Snorkel, the companies have announced the promotion of Tony Deatherage to service manager – The Americas.
Mr Deatherage has over 23 years of experience in technical service and training at Snorkel. Starting out at the company in 1993 as an assembly technician working on 80 ft and 120 ft boom lifts, he went on to hold multiple positions, including regional service representative roles and product support facilitator. In 2010, he was promoted to service manager at Snorkel's manufacturing facility in Elwood, Kansas, with responsibility for North America.
In his new role, Mr Deatherage will have the increased responsibility for the Xtreme Manufacturing brand of telehandlers, in addition to Snorkel, as well as an expanded territory which includes North and South America. Reporting directly to Jamie Graham, he is tasked with the management of day to day after sales support across the region and will work closely with the Xtreme and Snorkel manufacturing facilities, to implement processes and develop communications.
Matthew Elvin, CEO, Xtreme Manufacturing and Snorkel added, "Tony has been a valued part of the Snorkel team for many years, he really is our 'go-to' person for technical support. His experience and can-do attitude make him the perfect fit for this new role, which is a further example of our continued investment in customer support enhancements across the businesses."
Mr Deatherage will be relocating to Las Vegas, Nevada to assume his new role.