Socage launches new series and techniques
By Euan Youdale15 September 2015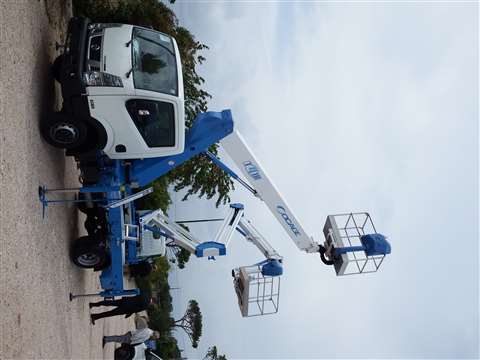 Italy-based Socage is holding a two-day dealer event in Rome, 14-15 September, at which it has launched a new series and a range of products and partnerships designed for international growth.
The E series consists of nine models ranging from 16 m to 28 m working height and is mainly aimed at Europe for the moment, although sales outside the continent may follow in the future once it has been trialled. Five of them are double articulating models with working heights of 21 m to 28 m, while there are four telescopic models with 16 m to 23 m working heights. There are also jib options on some of the models. They have the same characteristics as the existing Series 4 range with 300 kg basket capacity but have been designed to be light, allowing them all to be fitted on a 3.5 tonne vehicle.
To do this the manufacturer is using 1.5 mm thick high strength Docol 1200M steel for the booms, which have a high frequency welded profile, by specialist company Welser Profile. The technique adds strength and reduces weight.
The manufacturer has also launched a 15 m van mount at the event, following the 12 m version introduced at SAIE in October last year. The 15VTJ is a telescopic model with jib, plus two outriggers and 360 degree basket rotation. Capacity is 225 kg with two persons, or without the outriggers one person can be lifted.
In addition the company has acquired fabrication company CATT with robotic welding and cutting facilities. The acquisition adds 30 employees to its numbers, totalling 140 people now working at the company.
This will make it easier to create complete kits that can be fitted to any vehicle in different parts of the world. Especially suited to this will be the Series 4, which is designed to be sold worldwide with the standard X-Factor chassis launched last year.
To further enhance the situation the company has created what it describes as a standard line in its factory to allow higher production levels of its Series 4 products. Series 4 has seven models ranging from 15 to 24 m working heights and includes three double articulated machines and four telescopic units. Although the full line is expected to be completed in 2016, as will the new E Series.
Big truck mounts were also on display. There are eight in the large series, up to 75 m. The 75 m model is the result of a two year project and is mounted on a 32 tonne truck and has a 40 m outreach. A prototype was seen at SAIE last year and at Intermat this year and the model is now production-ready. Another one of its new large models is the 47 m working height unit, of which eight have been sold, with six of them going to the USA.