Sommer puts new Liebherr straight to work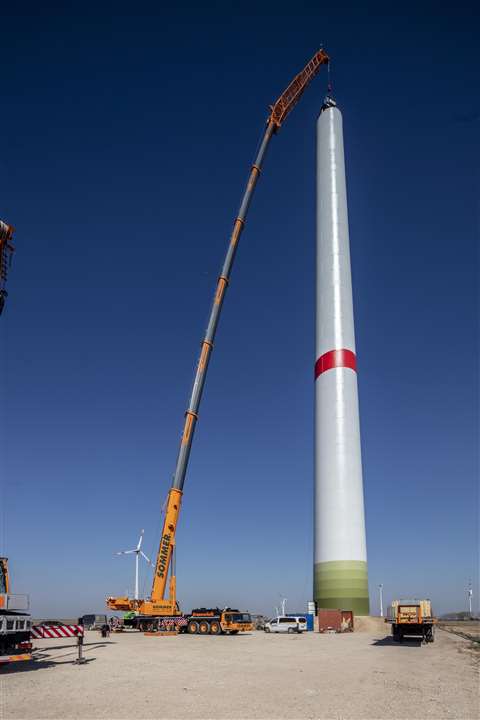 As soon as Sommer Kranverleih in Germany had taken delivery of its new Liebherr LTM 1450-8.1 wheeled mobile telescopic crane it put it to work on a wind farm construction project.
Bremen-based Sommer drove from the Liebherr factory in Ehingen to the Vier Berge wind farm in Saxony-Anhalt. It was used to install cables for bracing concrete turbine towers at a hook height of 100 metres. Immediately after that two day job it set off again for its next job.
Björn Sommer, managing director, explained: "Its 85 metre telescopic boom enabled us to set up the LTM 1450-8.1 quickly and easily. My people at the site were delighted and reported that they required very little equipment to carry out the work."
It was rigged with a 21 metre fixed boom attached to the end of the telescopic boom, which was set at 79.5 metres. Just 34 tonnes of ballast was added to lift the seven tonne load to a hook height of 100 metres at a radius of 24 metres. "VarioBase enabled us to increase the lifting capacity by around 15 percent for this load case," Björn Sommer said.