South Korea to help reconstruction in Ukraine
A delegation led by the South Korean Minister of Land, Infrastructure, and Transport, Won Hee-ryong, recently visited Ukraine to discuss six reconstruction projects in the country, says Korea JoongAng Daily.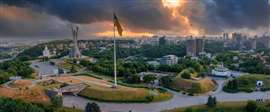 The group included 18 state-run organizations and private businesses, such as Korea Land & Housing Corporation, Hyundai E&C, and Naver.
During the visit, they met with Ukraine President Volodymyr Zelensky and participated in a reconstruction cooperation forum. The projects they agreed to work on include smart transportation in Kyiv, a smart city in Uman, modernization of Boryspil International Airport, and building a sewage system in Bucha.
Hyundai signed a partnership with the city government of Mykolaiv to provide construction equipment.
Earlier this month, Korean President Yoon Suk Yeol pledged $300 million in short-term aid for Ukraine next year and another $2 billion in mid- to long-term support for the country's war recovery at the G20 summit in New Dehli.
The Korean government plans to provide short-term aid to Ukraine in 2024 in the form of grants, humanitarian aid, and support through international financial institutions. The $2 billion support package will be in the form of a long-term, low-interest concessional loan through the Economic Development Cooperation Fund from 2025.