Spallek invests in 300 tonne Liebherr
By Laura Hatton17 June 2015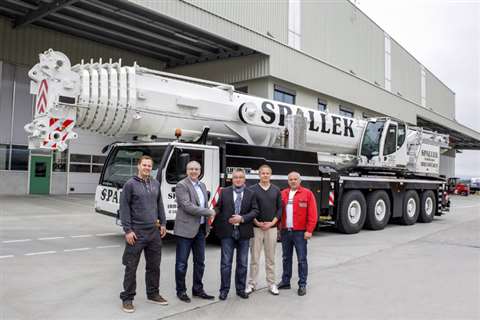 Crane service provider Autokrane Werner Spallek, based in Ibbenbüren, in North Rhine-Westphalia, has taken delivery of a Liebherr LTM 1300-6.2 mobile crane.
The six-axle LTM 1300-6.2 was first unveiled at the Bauma show in 2013. It was the first mobile crane from Liebherr to be powered by a single engine. It has a 78 metre boom and a lifting capacity of 300 tonnes.
Philipp Spallek, Autokrane Werner Spallek, said, "The crane is really powerful. We compared its load capacities with our 200 tonne machine and in some cases the 300 tonne model can handle up to 78 % higher loads.
Werner Spallek, Autokrane Werner Spallek owner, added, "It has high load capacities but is still very compact and very easy to use. Its short set-up times mean that we can have it ready for use on site quickly. The other important thing for us was that we don't have to change anything in our transport department. We can transport the crane equipment using our existing vehicles."
The LTM 1300-6.2 will be used by Spallek for hoisting work in areas such as the food industry, steel and coal, construction and civil engineering. It will also be used for jobs in wind energy, the cement industry, prefabricated concrete components, infrastructure projects and bridge construction and dismantling.
The handover was carried out at the Liebherr plant in Ehingen, Germany, by company owner Werner Spallek and his son Philipp.