Spanish refurbishment for Kalmar
By Laura Hatton12 September 2014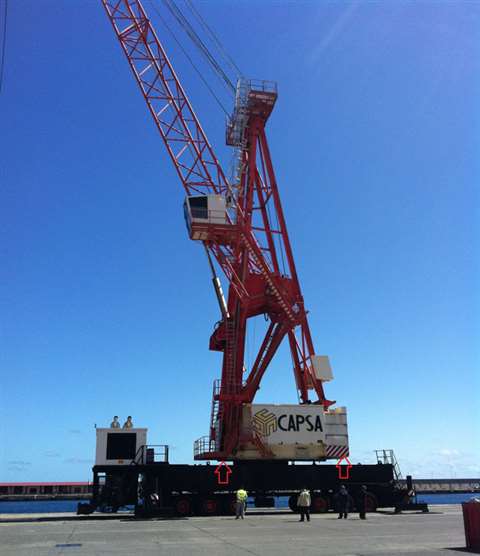 Kalmar, part of Cargotec, has completed an urgent refurbishment project on a Gottwald mobile harbour crane in La Palma terminal, Canary Islands, Spain.
The crane is owned by Spanish company Compañía del Puerto (CAPSA), part of terminal operator Grup TCB.
Work on the harbour crane included replacing the main bearing, refurbishing the cabin, painting the boom and painting the base structure. A new bolted pulley structure to replace the old fixed solution was also designed and fitted.
David Asensio, Grup TCB project manager, said, "Kalmar was chosen for the project based on their professionalism. We have had good experience with them earlier. In this project, we are especially satisfied with the redesign and replacement of the pulley structure because in the future it will be easier and faster to replace the pulleys."
Eduardo Prat, Kalmar vice president, EMEA South, said, "We are happy that we were able to help our customer to return a critical element of their terminal into operations quickly. This project showcases our unique capability to support any brand of cargo handling crane as well as Kalmar's versatile competence."
The work on the harbour crane was started in May 2014 and was completed in five weeks, a company spokesperson said.