Spanish rental revenues hard hit by pandemic
A report published by ASEAMAC, the Spanish equipment rental association, based on a survey conducted on Spanish rental companies at the start of June, shows one fifth of respondents have seen their revenues fall by between 50 and 75% during the Covid-19 crisis.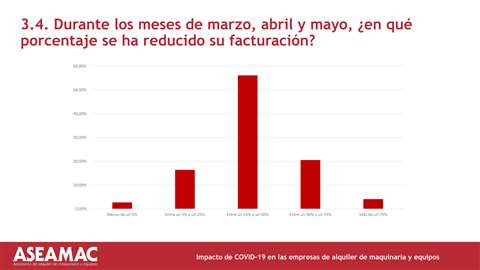 In March, April and May, 56% of surveyed renters said their turnover decreased by between 25 and 50%, while 21% of respondents said revenues had dropped by between 50 and 75%.
During lockdown, more tan 55% of rental companies had to temporarily close their businesses for at least two weeks.
To maintain liquidity, more than 65% of professionals applied for financial help – mostly through the Official Credit Institute, ICO, but alto through other banking products.
The report also reflects one of the most common problems for the sector during this time: late payments and unpaid bills. More than 60% of those surveyed indicated they had experienced a 10% increase in payment failures during the pandemic.
Regarding the impact on labour, more than 45% of respondents had to reduce their workforce and use the Spanish government's furlough scheme (ERTE). However, another 45% of respondents did not have to reduce the number of workers.
At the same time, the Covid-19 pandemic has introduced new costs that must be factored into business expenses, such as personal protective equipment, cleaning products and signs. This has led to an increase in spending of less that 5% for more than 45% of respondents, and an increase of between 5 and 10% for more than 35% of companies surveyed.
The full report is available for free on the ASEAMAC website.