Sparrow picks up EBI business
By In Vallely30 January 2017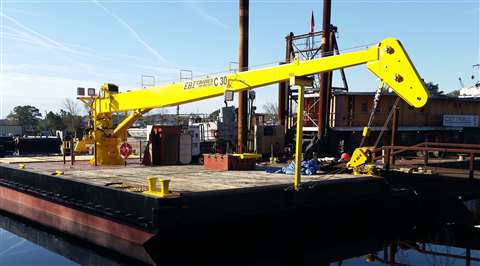 UK-headquartered Sparrows Group's global network of engineering and refurbishment workshops has been appointed as authorised service and repair centres for liftboat and marine crane manufacturer EBI.
The agreement delivers local access to an approved EBI service and repair centre to customers anywhere in the world as well as allowing Sparrows to act as a distributor for EBI equipment and parts.
The agreement covers all Sparrows bases worldwide and is expected to be of particular benefit to customers in West Africa, South East Asia and the Gulf of Mexico, where EBI has a strong existing crane install base.
Stewart Mitchell, chief executive officer at Sparrows, said, "EBI is well-recognised as a leader in the liftboat and marine crane market for the quality of its products. A feature of the agreement will see us offering competitive pricing for EBI cranes and components.
"Clients can be confident that all repairs and refurbishment will be carried out to the original equipment manufacturer standards. All our engineers and technicians are trained to the same high calibre, ensuring a quality local service is provided to EBI customers regardless of where they are based."
Based in Louisiana, EBI designs, engineers and manufactures marine cranes. This includes lattice, telescopic and fixed boom pedestal types. The firm's products are recognised as a quality and cost-effective lifting option.
Ken Serigne, president at EBI said, "The worldwide reach of Sparrows and the specialist knowledge of their staff means that customers, no matter where they are, can be assured of the highest calibre of workmanship and equipment. It is important to us to know that our customers have access to a quality local service for the life time of their equipment."