Sparrows to build 500 tonne under rollers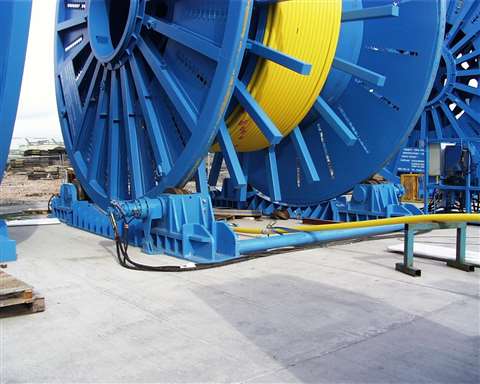 Sparrows Group has been awarded a contract by Oceaneering International, a global provider of engineered services and products to the offshore oil and gas industry, to design and manufacture two 500 tonne powered and jackable under rollers.
Designed for reels with an outer diameter up to 11.4 metres, the under roller system provides up to 10 tonnes of line pull at the outer reel diameter which is said to be particularly beneficial for steel tubed umbilicals – a relatively rigid product that requires greater effort to spool around the reel.
Key to Sparrows Group winning the contract was the company's in-house engineering expertise and facilities in Aberdeen, Scotland, where the under rollers will be designed and manufactured before undergoing testing. They will then be delivered to Oceaneering in Panama City where Sparrows Group will perform the assembly and site acceptance testing.
Local aftercare support for the under rollers will be supplied by Sparrows Group's service centre in Slidell, Louisiana, where the company has specialist technicians to maintain and repair this type of equipment.
Stewart Mitchell, Sparrows Group chief executive officer, said, "This contract award marks a significant milestone for Sparrows Group in that not only are the under rollers believed to be the first of the design and capacity in the marketplace but it underlines the added value we bring through our integrated services, responsiveness and aftercare support."
The complete under roller unit, when attached to a set of cradles, can be lifted via four lifting points. With packing structures for differing reel diameters the system can be used for differing reel cradles. This enables the unit to be versatile in terms of the reel dimensions it can be used with.
Both the drive and idler units can be individually moved to the location of the reel and cradles. The units can then be fastened to the cradles and with the use of hydraulic cylinders, the idler wheels can push against and under the reel – effectively lifting the reel off the cradle which allows the drive wheel to rotate the reel to spool or unspool the product.
Once the spooling operation is complete, the idler wheel can retract to lower the reel back onto the cradles which means that the drive and idler wheel units can be unbolted and moved to another reel and cradle on site for further operation.
Each of the two 500 tonne under roller systems include two drive carriages, two idler and lift carriages and two spreader beams, one hydraulic power unit and one remote control unit as well as one lifting sling set and a set of interconnecting 15 m deck hoses.