Speakers and topics announced for Industry Forum
By Hannah Sundermeyer05 October 2022
The full list of speakers and session topics for the Seventh Annual Industry Forum on Personnel Qualifications is now available. The hybrid event planned for Thursday, October 20, 2022, will provide several information packed presentations in a variety of areas important to the crane industry.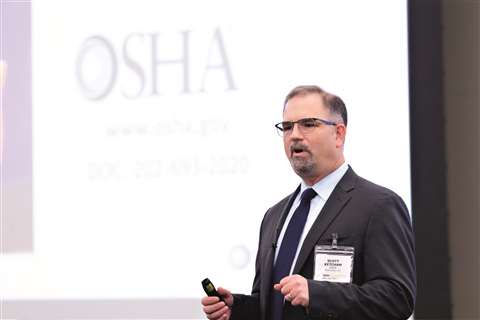 "We are excited to have several new experts presenting at this year's Industry Forum, as well as many of the great speakers from past Forums," said NCCCO Foundation Executive Director, T.J. Cantwell. "With a variety of topics to be covered there should be useful information for everyone involved in the crane industry," added Cantwell.
The following sessions are planned:
Keynote Address: What's New at Federal OSHA? Speaker: Scott Ketcham, Director of OSHA's Directorate of Construction, OSHA
The Future of Professional Credentialing Speaker: Lenora Knapp, PhD, President, Knapp & Associates International, Inc.
ASME B30 Standards Update for 2022 Speaker: Eric Fidler, Director of Product Safety, Grove U.S. L.L.C. and ASME B30 Committee Vice Chair
Mental Health in the Workplace Speaker: Mandi Kime, MS, BS, BA, GSP, CHST, Director of Safety, AGC of Washington
Test Security Breaches: What Doesn't Kill You, Makes You Stronger Speaker: John Zarian, General Counsel and Senior Director, Quality Management, National Commission for the Certification of Crane Operators (CCO
Exciting changes and New Features Coming to CONEXPO-CON/AGG 2023 Speaker: Sara Feuling, P.E., Senior Director, Construction, Association of Equipment Manufacturers (AEM)
Developments in Certification Speaker: Thom Sicklesteel, CEO, National Commission for the Certification of Crane Operators (CCO)
Making Innovation Accessible to Eliminate Workplace Fatality Risk Speaker: Kathryn Crawford, Research Manager, Work to Zero, National Safety Council
Engaging Youth in Construction Careers Speaker: Stephanie McNeely, MPA, CFRE, Director of Development and Strategic Partnerships, ACE Mentor Program of America
Crane Type Advisory Group (CTAG) – Past, Present & Future Speaker: Fred Simmons, Inspection & Training Manager, Foley Material Handling, Co., Inc. and Chair, NCCCO Foundation Crane Type Advisory Group
NCCCO Foundation Vision and Goals Speaker: T.J. Cantwell, Executive Director, NCCCO Foundation
Attendees can participate in person or via Zoom at no charge, but registration is required. Further details and registration information for the annual educational event are available at http://www.ncccofoundation.org/industry-forum/.