Special ceiling mission for JLG crawler
By Euan Youdale09 July 2020
When it comes to working on or repairing a ceiling, an aerial platform has a clear advantage. And to replace the lighting in a large, modern and architecturally sophisticated building, special equipment is required. JLG's new 33m tracked platform was the answer.
The special design of a building in Munich, Germany, required the greatest possible lateral range. In addition, the stowed height had to be below 2.2m, while the ground pressure inside the building had had be low. Lastly, it was important visitors to the site were not aware of the work going on behind the scenes
To guarantee all requirements were met, the choice fell on a JLG X33J Plus, new to the JLG product portfolio. Rented by Concept-B and delivered by the brothers Martin and Benjamin Biberger, from Schierling near Regensburg, whose company is member of Germany-based access rental company cooperattive System Lift.
"This JLG X33J Plus is the first compact crawler delivered to the German market," explains Biberger's managing director Martin Biberger. "Nobody else has a comparable work platform with comparable range that meets all the requirements for this challenging project."
The compact dimensions of the machine were crucial for working on the ceiling. The X33J Plus, includes a working height of almost 33m, platform height of 30.48m, and a horizontal outreach of 16m at an up and over height of 17.2m as well as an extendable jib.
The four-section lower boom can be raised to almost 90 degrees. The three-section telescopic upper boom, and a jib that can rotate 180 degrees, allows for maximum flexibility. With less than eight tonnes of weight, non-marking crawler tracks and a patented basket decoupling system, the 33m crawler is unique, said the manufacturer.
When the platform is removed, the length of the X33J Plus is less than 5.80m and its width less than 1.20m. This allows the remote-controlled crawler to be driven through narrow passages spaces. Automatic stabilisers deliver additional stability on site, while the footprint can be reduced to save space.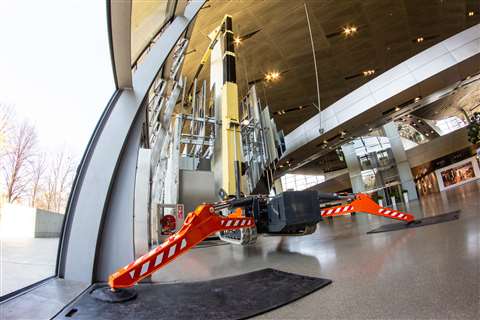 The 230kg of unrestricted load capacity, across the work envelope, allows more materials to be transported to the work area. The bi-energy model has a diesel Kubota D902 16.1 kW engine and 76V lithium battery.
Thanks to the equipment the lighting system is being successfully replaced, with a big time and cost saving. "The project will last several months," said Biberger, with JLG compact crawlers being in use the whole time, including the X20, X26 and the new X33J Plus models.