Specialized transport: Service specialists
Starting with specialized transportation services, Dutch heavy lift and transportation specialist Mammoet has boosted its marine services in the Gulf region by bringing back its 331 sea-going deck cargo barge. The barge was last used in the region for transporting the legs and spindle of the Ain Dubai observation wheel in Dubai in 2015. Since then it has been on assignment in the Far East.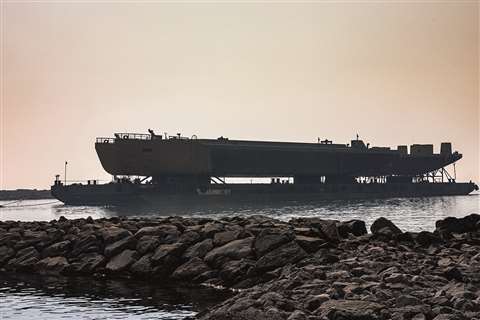 Mammoet's 331 sea-going deck cargo barge
The flat-top barge measures 100 m x 30 m x 6.1 m and has a deck strength of 25 tonnes per square metre. It was built for Mammoet to carry heavy and oversized cargo. Mammoet says it will complement its heavy lifting and transport fleet in the Middle East and further enhance its capabilities to provide turnkey solutions for projects in the region.
On the new equipment front, Ulm, Germany-headquartered vehicle manufacturer Kässbohrer has launched the K.SPS H 4 semi-trailer designed for heavy-duty transportation. It is a non-extendable four-axle semi-trailer for the transportation of heavy, flat and ballast goods. The flat, rigid chassis has a box-profile construction which Kässbohrer says provides good load distribution and resistance against deflection. The use of S700MC steel is designed to provide a high strength but a light weight, thus increasing payload and reducing fuel consumption.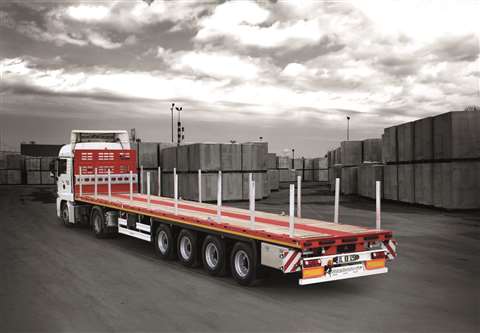 A range of options
The semi-trailer has a total length of 13,600 mm and a gross vehicle weight of 54,000 kg. The trailer works with trucks with fifth wheel heights from 1,100 mm to 1,250 mm and there are storage options under the chassis. Chassis rings have a capacity of 13.4 tonnes.
Luxembourg-headquartered specialized transport equipment manufacturer Faymonville Group has added a 3+3 single-drop MultiMax trailer to its North American trailer range. It is suitable for a wide range of applications and has a double stretch feature, allowing flexible spacings between the axle tridems, and a total deck length up to 77 feet (23 m).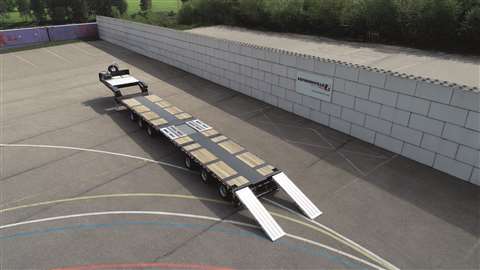 The trailer's neck can be hydraulically lifted and lowered to help navigate uneven ground or obstacles. The three-axle front bogie, with caster steered axles, follows the truck while the rear bogie can countersteer using kingpin steering, providing a tight turning radius.
When closed, the trailer is under 53 feet (16 m) long and 100 inches (2,540 mm) wide, which means it does not need an escort or permit to be mobilised. From its closed length, the trailer stretches to over 90 feet (27 m), including the gooseneck, with a double stretch beam between the gooseneck and front bogie and a single extension between the two tridems. For additional load support over the extended stretch beams, the trailer comes with several extra bunk sections.
The platform over the axle bogies is closed and covered with timber. The trailer can be widened up to 10 feet (3 m) in these areas, using galvanised pull-out outriggers. Removable ramps facilitate the loading of machinery. The MultiMax chassis is fully zinc-plated to protect against corrosion.
With regards to product updates, Indiana, USA-based trailer manufacturer Talbert says it has revised its travelling axle trailer design (TA Series) based on feedback from dealers and end users. The company has also added a remote-controlled in-deck winch to its 50 tonne capacity Bus Hauler (50CC-BH) that allows users to load equipment from front or rear of the trailer without assistance. It has also reduced the centre spread of its 55 tonne capacity Raised Center (55SA-RC) from 48 inches to 46 inches and reduced the loaded deck height by an inch. It says this makes the model more versatile for customers hauling smaller equipment. We were also able to shave an inch off the loaded deck height.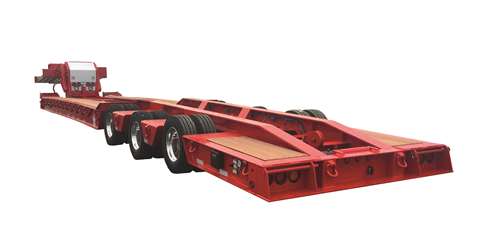 Talbert's 50 tonne capacity Bus Hauler (50CC-BH) now has a remote controlled in-deck winch
For its USA-based customers, Talbert has made some updates to its 55-tonne Roller Paver (55CC-RP) which it says enhances load versatility and minimises permit costs. The trailer offers dual kingpin settings, which allow drivers to operate empty without a permit in states with 43-foot kingpin laws. It also comes with longer ramps and other optional features that can be adjusted for equipment with various widths and heights.
Remaining in the USA, Trail-Eze – a South Dakota-based manufacturer of heavy equipment trailers - has opened a new 41,000 sq. ft production facility. Trail-Eze specialises in production of sliding axle, hydraulic tail, and detach trailers and this is its third site in central South Dakota. The building has been custom-designed for the final stages of trailer manufacture including blasting, painting, wood decking, and final inspection.
Nate Tapio, operations manager at Trail-Eze, said, "Opening the new facility marks the culmination of years of research and development into the latest painting and finishing technology. The site allows us to consolidate the final stages of our production under one roof."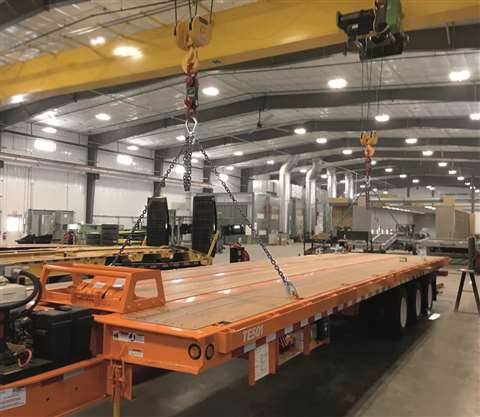 Trail-Eze's new production facility
Orders placed
In specialized transport order news, German heavy-duty transport equipment manufacturer Goldhofer is enjoying a boost to business from two companies in Taiwan. First, logistics service provider Sea & Land Integrated Corporation has ordered 28 PST/SL-E axle lines for its fleet.
"In view of the continuing high level of demand for construction site logistics, we have decided to order additional vehicles from Goldhofer for handling ultra-heavy loads," says Charlie Chien, vice president of Sea & Land Integrated Corp. "The new PST/SL-E axle lines will be used in Taiwan to transport heavy and outsized components for the energy industry and oil refineries."
Goldhofer has also sold one of its FTV 550 blade transport devices to Chi Deh Crane Engineering Co. which is headquartered in Hsinchu City (Taiwan) and has service bases in the People's Republic of China. According to Goldhofer, the wind power industry is growing in this region and demand for logistics services for wind parks and turbines has increased significantly. In addition to the FTV 550 blade transporter, Chi Deh Crane Engineering has bought 16 axle lines of the electronically steered PST/SL-E and three SPZ-GP flatbed semitrailers with pendular axles, enabling it transport additional wind turbine components.
And Wijchen, Netherlands-headquartered trailer manufacturer Nooteboom Trailers has received a large order from German heavy lifting and transportation company Hegmann Transit for various vehicles for transporting heavy machinery. The order includes four-axle Euro-PX low-loaders (type Euro-95-24ICP) with two-axle interdollies and five-axle Manoovr extendible semi low-loaders (type MPL-85-05(V)) with excavator troughs and 80-tonne capacity ramps.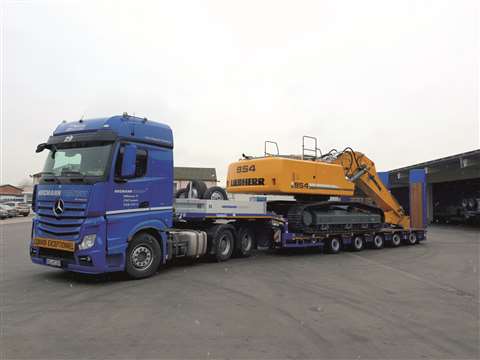 According to Nooteboom this is the first time Hegmann has bought Manoovr semi low-loaders. Nooteboom says that the semi-low loader's low load floor with excavator trough and 80-tonne ramps makes it possible for Hegmann to transport most of the heavy construction machinery required. Machines that are too high for the MPL semi low-loader can be transported with the Euro-PX low-loaders.
Scheuerle at 150
To celebrate 150 years of operation Scheuerle Fahrzeugfabrik, part of the Transporter Industry International Group (Tii Group), dug deep in its archive to bring us this great shot of one of its first generation of SPMT. Scheuerle estimates the photo to have been taken in around 1989 and the SPMT was for Mammoet to be used for the Red Dog Mine in in Alaska. For more information about the project see: www.mammoet.com/cases/signaturecaseRedDog