Specialized transport: Trailblazers
Demand from end users for a plethora of specialized transport equipment remains high, spurring manufacturers to continue innovating. Christian Shelton reports
In a similar way in which digital technology has 'shrunk' the world into what has been described as a 'global village', advancements in specialized transport technology mean ever heavier loads can now be transported greater distances more easily than ever before. The emergence of new types of abnormal and overweight loads is also stimulating growth in the specialized transport sector, resulting in manufactures developing new, cutting-edge bits of kit to meet demand.
And demand is high, as illustrated by heavy lift and transportation specialist ALE which says it continues to invest in trailers and specialized transport equipment with the latest technologies. "We purchased two new fleets of widening trailers, some for our South Africa branches, that can be mechanically widened three metres to get the maximum stability and footprint for travelling long distances safely with severe road cambers, and another fleet in the UK that can be widened to 4.3 m whilst loaded. Both trailers are being used to optimise the road conditions," says David Purslow, general manager of global operations at ALE. "Last year, we purchased 2 x 6 axle units of Goldhofer ADDrive SPT, complete with power packs, which will be utilised in Kazakhstan to primarily service the Caspian region."
Tough terrain
ALE has also bought eight new Iveco Trakker trucks for use in Argentina and Chile. "We wanted to increase our transport capabilities as we often have to negotiate terrain that has unprepared roads," explains Walter Rago, general manager of ALE's Argentina branch. "The decision was made to purchase these trucks because of their off-road characteristics. This makes them particularly suitable for the region's roads and the specific routes we take. Their sturdy features, including the chassis, suspension and engine capabilities, will help when negotiating the difficult Patagonian roads. The trucks will be used to strengthen ALE's service offering across the region and, specifically, its presence in the region's burgeoning wind energy market."
ALE also develops its own in-house specialised transport equipment, such as the AL600 girder frame and Route Survey Tool released at the end of 2017. "The AL600 is the world's highest capacity girder frame and can carry up loads up to 600 tonnes using up to 80 axle lines," explains Purslow. "It is ideal for challenging routes as the necks narrow in from the load-carrying beams to the tower, so it doesn't take as much space or require as many obstacles to be removed when driving around bends.
"The Route Survey Tool is a computerised system that automatically logs accurate route descriptions on digital maps for greater reliability and project efficiency. In fact, the Route Survey Tool won the Safety Innovation award at the ESTAs for its safer and more reliable functionality."
ALE says that it is finding the busiest markets for moving oversized and overweight loads to be the wind and power generation sectors. "The busiest markets requesting transportation of oversized, abnormal loads are most commonly across Europe, South America, Australia, Africa, and South East Asia," adds Purslow. "As a result, we are investing in the most suitable equipment to match the regional requirements and challenges."
Specialized transport equipment manufacturer Goldhofer also says that the wind power sector is a key area of focus and the company has two transport solutions for wind power plant logistics: the FTV 300 and FTV 500.
The larger of the two, the FTV 500, has been designed for the increased size of modern rotor blades. It has a load moment of up to 500 metre-tonnes and is suitable for handling the Enercon E-138 rotor blade, which has a length of 67.9 m and a dead weight of 21,400 kg, and the Vestas V 150, currently the biggest rotor blade on the market with a length of 73.7 m. The FTV 500 has a maximum lift-up angle of 60 degrees and allows infinite pitch adjustment around the axis of the blade so that it can be adjusted depending on the direction of the wind, says Goldhofer.
For road haulage operations on less challenging routes Goldhofer makes the BladeX blade tip lifting device, which can be installed on any Goldhofer flatbed semitrailer with pendular axles. It can handle blades with a length of up to 70 m. It incorporates a scissor lift with a maximum stroke of 7 m which gives approximately 10 m of clearance above the ground for negotiating roadside obstacles and narrow sections of a route.
The BladeX can also be retracted under load, adds Goldhofer, while the blade tip lifting device incorporates a crosswise tilt angle of up to three degrees for equalisation of centrifugal forces caused by either bends or slopes.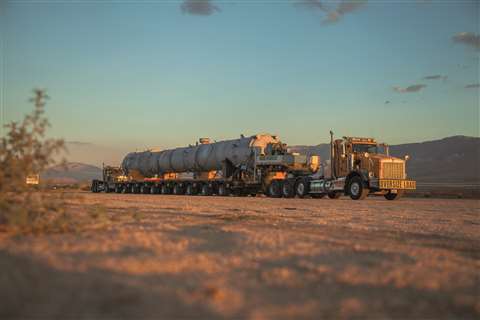 Global markets
According to Goldhofer, in countries such as Turkey or India road regulations are being relaxed with regards to maximum permissible axle loads and overall widths due to improvements in road infrastructure. Goldhofer reports that, because of this, these markets are opening up to its product portfolio.
In Thailand, on the other hand, Goldhofer says the maximum number of permitted axle lines per combination has been reduced. There are also complicated regulations to be observed in the US market, Goldhofer adds, where it is aiming to strengthen its presence following the foundation of Goldhofer Inc. in 2017 and its 2018 partnership with US trailer manufacturer Trail King Industries – where the two companies have agreed to help support and promote each other's products. Compliance with the legal requirements for road haulage is all the more challenging in the USA, says Goldhofer, as there are considerable differences between the individual states.
It is against this backdrop that it introduced its THP/DC transporter in 2017. Using a remote control, Goldhofer says the THP/DC can be widened step by step from a width of 4,260 mm up to 6,100 mm. This can also be done with the vehicle under load – at a maximum axle load of 24 tonnes at 40 kph – and even whilst on the move, claims Goldhofer. The loading height can be adjusted from 1,000 mm up to 1,700 mm. The transporter is suited for haulage operations across several borders as automatic hydraulic operation permits load distribution to be quickly adapted to the various regulations without having to spend time offloading the cargo at critical points on the journey, Goldhofer explains.
Goldhofer's second US-compliant vehicle, the Goldhofer STZ-P9, comprises three three-axle bogies with swing axle technology and an extension system for changing the distance between the bogies and thus axle spacing to cope with differences in the relevant regulations. In addition, Goldhofer says, with the support of a tractor, the length of the trailer can be decreased by retracting the rear bogie of the STZ-P9 – even under load. It can then be extended again when required.
Widening system patent
Dutch heavy lift and transportation specialist Mammoet has also been looking at widening systems and has just announced it has acquired an American and Canadian patent for a widening adaptor which can expand self-propelled modular transport (SPMT) trailers. The widening adaptor enables variable spacing of split SPMT trailers, expanding the width from 10 feet to 21 feet.
According to Mammoet, an SPMT that has been extended with the widening adaptor has the same amount of capacity with additional stability – increasing the width of the loading platform, without the need to add more SPMT trailer units. This, it says, makes transporting such loads more cost-effective and safer due to the increased width.
The company has also opened its first office in Kazakhstan, as part of its joint Mammoet-Kasmashal venture. The new office will predominantly provide services to the oil and gas, petrochemical, mining, and wind energy sectors. The new Kazakhstan fleet will include 60 SPMT axle lines, as well as 24 trailer axle lines and 8x8 trucks. This latest branch comes on the back of Mammoet opening new branches in Jubail, Saudi Arabia and Teesside, UK.
Luxembourg-based trailer manufacturer Faymonville has added a new trailer to its range: the MAX600 turntable trailer. Faymonville says the trailer offers a choice of three or four axles and its flat loading platform makes it particularly suitable for transporting construction equipment.
The company has also developed some new features for its PA-X low pendle-axle for use on trailers, which enables a low loading height of 790 mm and a stroke of 600 mm. Faymonville says the steering geometry of PA-X trailers can now be hydraulically adjusted via the steering system without requiring any mechanical work to provide the ideal steering geometry for the respective vehicle length. This helps optimise manoeuvrability and reduces tyre wear and tilting, says Faymonville.
The new MAX600 turntable trailer from Faymonville
The most recent product from Faymonville's Cometto brand is the MGSL heavy duty modular vehicle, with a capacity of 45 tonnes per axle line. Its strengthened load area allows point loads up to 50 tonnes above the wheel arches and 80 tonnes above the cross members. It is 3 metres wide and available in units of between two and six lines. A power pack unit can also be added to make it self-propelled and Faymonville says it is compatible with similar vehicles from other manufacturers.
Waste gas scrubber move
Thai transportation specialist Silamas was contracted to move two waste gas scrubbers, weighing 2,100 tonnes each and measuring 16 x 36.1 x 36 metres, a distance of 800 m from the factory where they were made to a nearby quay in Japan, and then to load them onto a barge.
Silamas' engineering manager Teeraphap Juntorn says, "In view of the enormous weight and dimensions of the units, we finally opted for two 24-axle parallel combinations controlled by a single operator using a Hydronic steering system from Goldhofer."
The first parallel combination comprised two PST/SLE 16s and THP/SL 8s; the second configuration comprised one PST/SL 4 and THP/SL 20, and one PST/SL 6 + THP/SL 18.
According to Goldhofer, its PST/SL series is one of the heavy-duty modules with the highest loading capacity on the market and has a tractive force of 160 kN per driven axle line.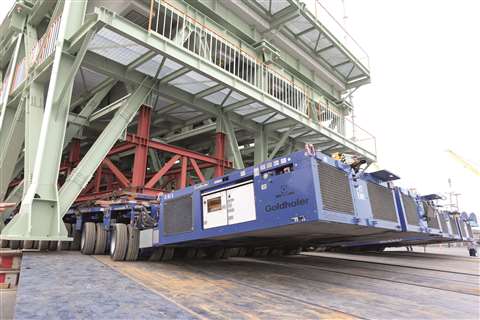 Transporting turbine blades
This image, taken by construction, demolition and transport photography specialist Scottish Photography Productions, shows UK-based transport and logistics company Collett and Sons transporting wind turbine blades for its client, wind turbine manufacturer Senvion.
Collett is transporting the blades using its Super Wing Carriers (SWC), made by Dutch manufacturer Nooteboom, Trailers between KGV Dock, Glasgow, to the Kype Muir Wind Farm in South Lanarkshire, Scotland.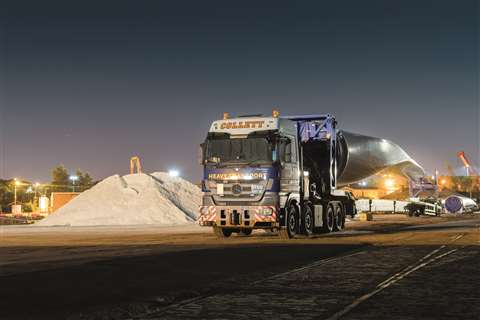 Colletts has three SWCs which it purchased in 2015 direct from Nooteboom in response to the increasing size of turbine blades. "We have seen turbine blades grow from 18 m long for 450 kW turbines, where we could load 3 blades per trailer, to the latest generation of turbines (3 and 4 MW turbines) which have blades up to 70 m long," said Colletts' managing director David Collett. "This project comprises 260 abnormal loads consisting of blades, tower sections, nacelles, drivetrains and hubs that have to be delivered on time and in the correct sequence. These blades are only 52 m long but specifically required the SWC due to some problematic road restrictions and alignments en route. With the SWC it is possible to shorten the body and wheelbase of the trailer whilst loaded. This is due to the sliding bolster arrangement on the deck of the trailer. The use of this feature meant that the access route became viable for this size of turbine for this wind farm, otherwise a smaller turbine would have had to be nominated.
"The Collett Consulting team provided proof of this prior to the transport taking place by creating a 3D model of the truck, trailer and load and then produced a swept path analysis movie of the blade successfully negotiating the route restriction by manipulating the trailer whilst loaded."
In this image Fagioli Asia is transporting a bullet tank weighing 900 tonnes. Fagioli was contracted for the jack-up, transport and load-out/load-in of seven bullet tanks in Malaysia between February and November 2017. The tanks were also transported via four barges and on the road. For the job, Fagioli used four jack-up systems, 48 SPMT axle lines with four power pack units, the barges, 20 ballast pumps, and modular grillage.