Specialty unit from Lift-A-Loft
By Lindsey Anderson01 April 2019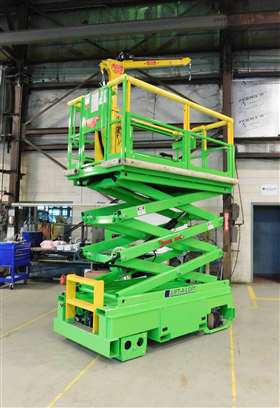 Lift-A-Loft has manufactured an omni-directional steering scissor lift for aircraft maintenance. The SPW16SPL is the first type of this equipment to be produced by Lift-A-Loft.
Due to tight working parameters, the customer needed the versatility of omni directional positioning. The SPW can drive parallel to the fuselage of the aircraft but then be change to crab steering mode that will allow it to position easily between two work stands.
The SPW16 has three different drive modes for easy operation. The first provides standard forward reverse drive with thumb rocker steering like a conventional scissor lift. The second mode is a rotation mode that allows the unit to spin 360 degrees within its own axis. The third mode is the side to side crab drive mode. The system re-orients the drive wheels to the appropriate position depending on the drive mode selected.
In addition to the special all electric drive system, the SPW16 has an on-board material handling crane. The crane is track mounted and can slide along the rear side guardrail. It can also be manually positioned in a variety of ways. The crane is an ergonomic tool used to position heavy work pieces for removal and installation. The crane is also equipped with a powered winch.
In addition to the crane, the SPW16 is equipped with fork pockets at the front, rear and sides of the machine. It also features retractable guardrails on three sides of the platform. These rails allow for better positioning of the work piece when the operators are positioned up against the fuselage.