Speedy launches 4 hour London delivery
By Murray Pollok05 November 2018
Speedy Hire in the UK is now promising 4 hour delivery in London, extending the 'Capital Commitment' initiative it launched earlier this year.
Speedy initially committed to same day delivery of its top 50 products if ordered before 3.00pm and has now extended that in response to customers requiring a near real-time service delivery.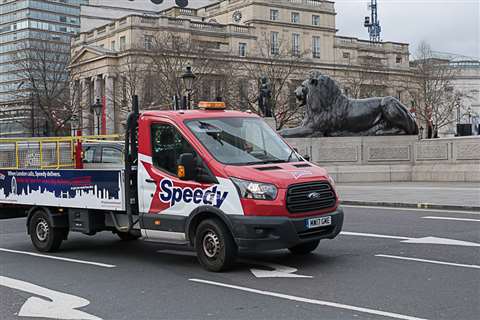 It has also extended the range of products available for 4 hour delivery from 50 to 52. If Speedy fails to deliver against this service promise, customers will be granted one week's free hire.
Launching the new service promise at the Speedy Expo, Russell Down, Chief Executive, said: "We are dedicated to putting our customers first with fast, reliable service to help them deliver their projects successfully and without delay.
"Capital Commitment, offering same day delivery, was an industry first. We have now taken this a step further with our 4-hour delivery promise; an indication of the innovation we have introduced to enable us to deliver the best service in our industry."
Founded in 1977, Speedy Hire operates from more than 200 fixed sites in the UK and Ireland together with on-site facilities throughout the UK and Ireland and from an office in Abu Dhabi, UAE.