Speedy rolls out early careers programme
By Leila Steed01 August 2022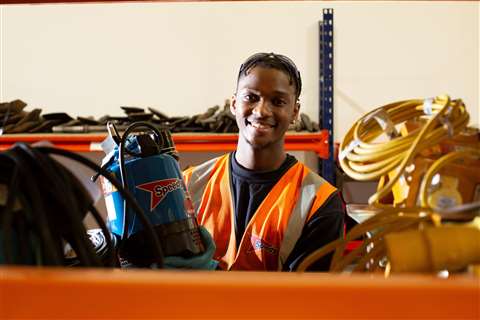 UK rental company Speedy is to boost its skills base by doubling the number of trainees it has, with the launch of its "early careers" initiative and a virtual work experience programme.
Designed to "nurture and develop young people" that are at the beginning of their careers, the early careers initiative will create new opportunities in practically every department of the business, from engineering and operations to sales and marketing, allowing trainees to work with experienced members of Speedy's staff who will pass on their skills and knowledge. 
The company also plans to launch a virtual work experience programme that aims to make school students aware of the career opportunities in both the construction and rental sectors.
While the virtual programme will initially be made available to around 300 young people, the company is also expanding its formal apprenticeship and graduate programmes.
Speedy, which currently has 80 colleagues aged between 16 and 40 years old on apprenticeships schemes, said it is committed to ensuring that workers on formal training programmes make up 5% of its workforce.
Dan Evans, chief operation officer at Speedy, said, "We recognise our responsibility to help the sector tackle the skills challenge and our early and late careers strategy underlines our commitment to creating opportunities for young people in the communities we work in across the UK. The programme is hugely valuable to us as a business."
In addition, Speedy is also working with the Not Going To Uni and The Youth Group organisations to showcase career opportunities and the hire industry to hundreds of thousands of young people across the country. 
"Working with Not Going to Uni and the Youth Group provides a great opportunity for us to showcase our exciting career opportunities to a more diverse range of people than ever before, but equally is a brilliant way of us expanding our teams," said Evans.
"It will bring new skill sets and perspectives that can strengthen our business to help us build for the future."