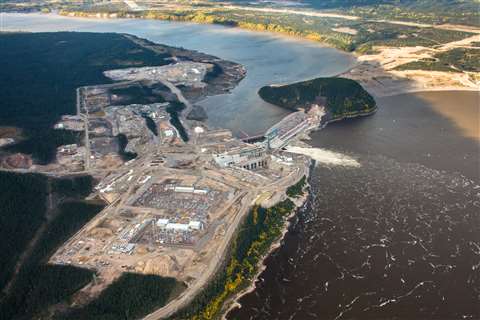 SPG selected for work at Muskrat Falls
By Lindsey Anderson30 April 2018
The Special Projects Group (SPG), a division of Canadian-owned AGF Access Group, Inc., has been selected by Andritz Hydro as a key subcontractor for construction of the Muskrat Falls generation facility in Newfoundland and Labrador. Once constructed, it will be the second largest hydroelectric generating facility in Atlantic Canada. The Muskrat Falls project will produce 824-megawatts of longterm clean, renewable energy.
SPG, in collaboration with Hydro Mobile, designed a solution utilizing access equipment for the assembly of four turbine-generators. The packaged solution includes two lots of equipment including 12 Hydro Mobile electric P-series mast climbing work platforms for custom circular setups and four Winsafe aluminum crossover bridging, along with the site training and supervision services. The equipment will be used by Andritz personnel to install stator windings and other accessories during construction of the new power plant located on the lower Churchill River.
SPG's modular mast climbing solution allows versatility for the steel platform to move up and down, as well as the ability to expand and retract as the diameter changes from one hydro plant to another. The platforms serve as the base for plywood planking allowing a customizable circumference for access to the turbines.
"When using a traditional tailor-made steel platform, the contractor would typically use overhead cranes to move the platform during the building process, which is very cumbersome and time-consuming," said Alex Di Domenico, general manager, SPG. "Hydro-Mobile platforms are able to ascend and descend together via on-board electric drive systems providing a customizable access system for the turbine construction, on demand."
Hydro Mobile P-series mast climbing portable units are suited for small jobs that require high capacity or in restrained areas where most platforms cannot fit. The motorized units offer a core capacity of more than 8,000 pounds.
"SPG has provided us with a fast and easy solution for the turbine construction. It's a real benefit to us and makes the job come together much more quickly," said Sébastien Projean, installation coordinator, Andritz Hydro.
"The Muskrat Falls Project is a great opportunity to provide our simplified and efficient access solutions," said Di Domenico. "We are proud to contribute to this historical energy project."
First power from the generation project is expected in 2019 with full power in 2020.