Spierings launches hybrid crane
By Christian Shelton22 November 2017
Dutch mobile folding tower crane manufacturer Spierings Mobile Cranes has launched what it describes as the "first hybrid electric crane", the SK487-AT3 City Boy. It says it developed the City Boy in response to the increasing number of cities around the world banning vehicles with diesel and petrol engines.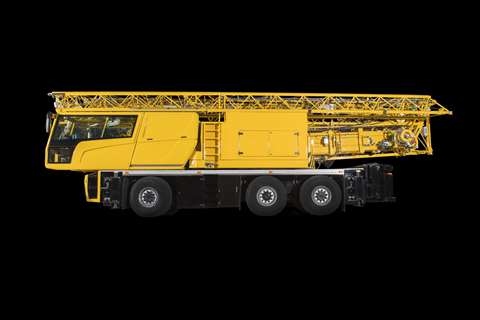 The City Boy was conceived seven years ago but it has been completely redesigned since its initial offering.
Capacity is 7,000 kg at a radius of 11.96 metres. At its maximum 40 m radius it has a capacity of 1,700 kg. The maximum load chart is only available in a 210 degree 'slice' on one side of the crane due to the offset location of the slewing ring. The slewing ring has been offset to accommodate the self erecting tower and cab. For the remaining 150 degrees of the slewing circle, a capacity of 1,350 kg is available at the maximum 40 m radius. This means, to operate it at full capacity the crane is designed to be used on just one side, the way it would be used in a space-constrained urban environment anyway, said Spierings.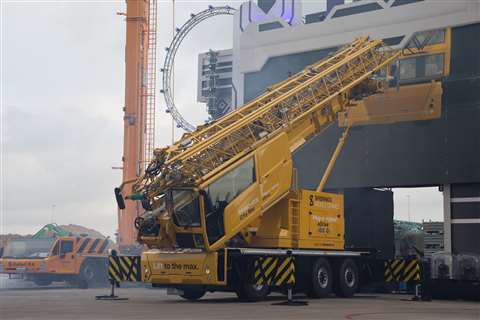 City Boy lifts 7,000 kg at a radius of 11.96 metres
To help navigate narrow city streets the crane's chassis is a compact 2.5 m wide, 13.1 m long and 4 m high. It has a gross weight of 36,000 kg and all three axles are steered.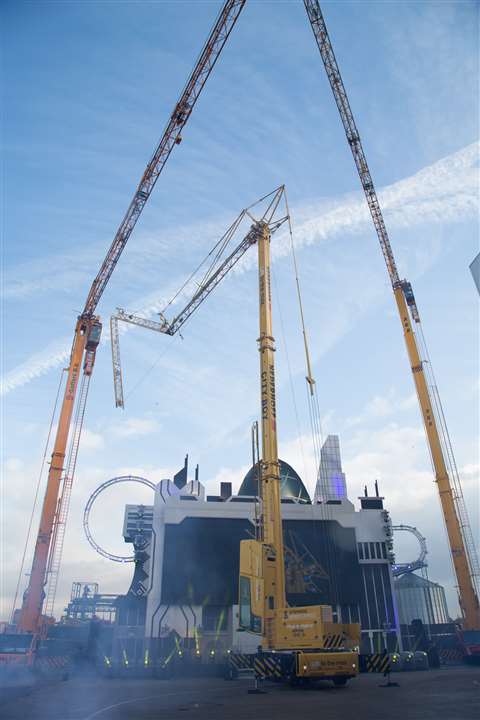 The jib can be unfolded at any slewing position through 360 degrees
The City Boy tower can be set at four heights (30, 27, 24, or 21 metres) and a high erecting curve and the jib can be unfolded through 360 degrees. With the luffing jib at its highest 45 degree elevation, the maximum below the hook height is just over 55 metres.
Spierings has redesigned many key elements of the crane compared to its other tower crane designs. These include a new tower and tower head design, as well as a new outrigger system that offers a much wider extension than previous designs.
A distinctive new cab design sees a new truck cab offers greater operator comfort and also functions as a crane cabin and elevator, rotating 90 degrees in the process.
The plug-in hybrid eDrive capability has been realised using a drivetrain with a 370 kW electric motor from Finnish electric drivetrain specialist Visedo and a battery pack from from French lithium-ion battery systems specialist Forsee Power. There is also a small, 170 kW, John Deere diesel engine which can be used to drive the crane on the motorway between jobs or to charge the battery pack via a generator. An onboard charger means that the crane can also be plugged in by cable to site power for battery charging or crane operation.
Orders for the new City Boy have already been confirmed by with Dutch company M. Verschoor and UK firm City Lifting, among others.
At the City Boy launch it was also announced that company head Leo Spierings has sold all of his company shares to his nephew Koos Spierings, although he would still remain head of the Spierings crane empire. This means Koos Spierings now owns 100 percent of the company shares.
Further details about the SK487-AT3 City Boy will be included in the January 2018 issue of International Cranes and Specialized Transport.