SPMT: Propelled to fame
By Christian Shelton11 February 2020
Some say the SPMT is the unsung hero of the heavy transport industry. We say it's time to sing its praises with this round-up of equipment developments and job site examples.
German heavy-duty transport equipment manufacturer Goldhofer says it has re-engineered its PST/SL-E self-propelled heavy-duty module and increased the tractive power of its Addrive self-propelled heavy-duty module. The new edition of Goldhofer's PST/SL, the PST/SL-E 4, has a reinforced frame that Goldhofer says gives it an even higher load capacity. The module's gross weigh capacity is 180 tonnes and it has an axle load of 45 tonnes. The module is also now available with what Goldhofer is calling the Speedrive option, which allows the drive axles to be operated in freewheel mode. This means transportation companies can tow the module under full load thus speeding up operations. The tractive power of the module has also been increased, weighing in at 360 kN.
Surf and turf
Taiwan-headquartered transportation company Sea and Land Integrated Corporation ordered 28 of the new PST/SL-E modules which were delivered to it in June. They will primarily be used to transport large plant components for the energy industry and equipment for refineries. According to Goldhofer, what particularly appealed to Sea and Land Integrated about the modular system was that they can be mechanically coupled with Goldhofer's THP/SL-L and THP/SL transporters and can be electronically synchronised with Goldhofer's PST/ES-E vehicles. This is particularly pertinent to Sea and Land Integrated because it has 94 Goldhofer PST and THP axle lines in its fleet built up over the last 20 years.
Sea and Land Integrated's modules have been provided with additional lifting points on the frame to make it easier for customers to load and transport individual modules.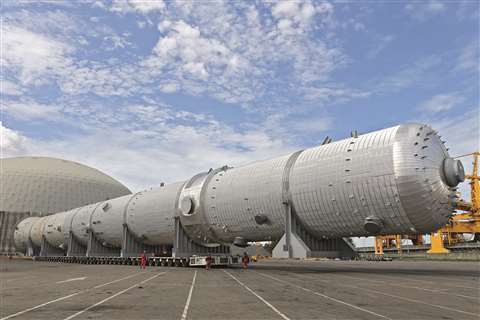 Goldhofer's latest Addrive, version 2.0, has also been updated. It now has almost double the tractive power of the previous version, coming in at 530 hp. This has been achieved by incorporating additional drive axles enabling speeds of up to 50 km/h when in 'Add' mode.  The module's low-noise motor meets EU Stage IV and EPA Tier IV standards. When the vehicle is in towed mode, rather than self-propelled mode, there is no oil flow in the hydromechanical drive system. Goldhofer says this prevents overheating in the drive and minimises wear. It also means that when in self-propelled mode it cannot overheat even during under continuous operation with high loads.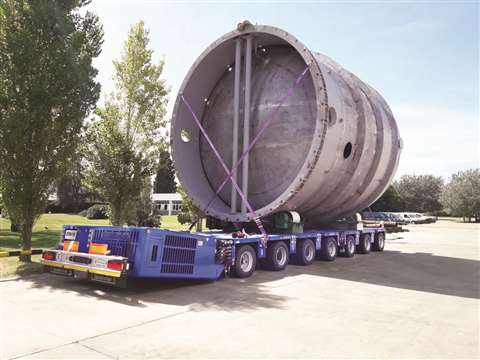 As with the previous generation the drive can be controlled via radio remote which offers a choice of driving modes. Depending on the operating situation the drive can be connected or disconnected and the module moved with or without the assistance of a tractor. When crossing a bridge, for example, the PowerPack can be used as the sole drive with the tractor uncoupled so as to significantly reduce overall weight.
Goldhofer says Addrive is easily installed in trailer and semi-trailer combinations and can be combined with drop decks and long-load turntables. Modules can also be coupled together to form longitudinal and parallel combinations and synchronised with other Goldhofer Addrive modules. If the towed combination exceeds the maximum speed of the Addrive, the drive unit switches off automatically and disconnects, permitting it to travel at speeds of up to 80 km/h.
The new drive unit also incorporates an electronic braking system, which Goldhofer claims as a world first in a vehicle of this type.
Self propelled transport equipment manufacturer Cometto, part of trailer manufacturer Faymonville since 2017, launched the SyncBox earlier in 2019. The SyncBox allows users to connect Cometto MSPE 40T, 48T, EVO2 60T and/or EVO3 70T SPMT with self-propelled vehicles from other manufacturers. A video of the system in action can be seen here: https://bit.ly/2JEu8P3
German delivery
Cometto recently delivered a six-axle self-propelled MSPE trailer with a capacity of 40 tonnes per axle line to German crane and transport company Gertzen Autokrane and Transporte. The MSPE was delivered with a 129 kW powerpack. The combination provides a loading area of 8.40 x 2.43 metres.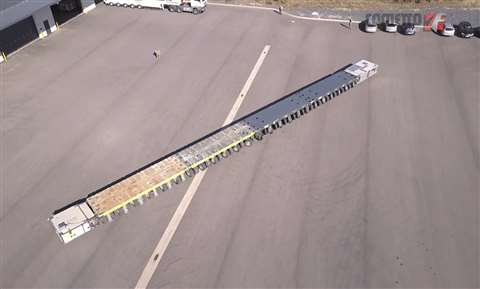 Cometto's SyncBox enables a number of its SPMT to connect with self-propelled vehicles from other manufacturers
Mammoet used its Trailer Power Assist (TPA) system for the first time in Norway. Developed in conjunction with trailer manufacturer Scheuerle, TPA is a 1,000 hp powered trailer system used as an alternative to self propelled modular transporter and prime movers. To improve transport safety and efficiency it was used on a project to move 23 generators and 23 turbine hubs on a particular section of the project's route near Narvik in the north of the country.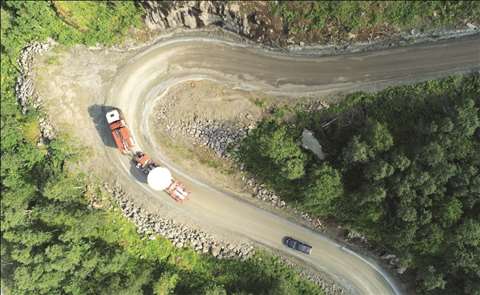 Safety is one of several benefits of TPA. Anders Bräuner, Mammoet Denmark sales manager, commented, "Safety is vital on every project. The four kilometre section of the route to the Narvik site that Mammoet were required to complete involved climbing an 18 per cent gradient and navigating 12 to 14 hairpin bends. With each generator weighing 74 tonnes and each hub weighing 47, we needed to use the TPA system to maintain safety."
TPA is a module of six axle lines, the central four of which are driven. The engine drives hydraulic pumps as part of a hydraulic power pack unit. It has twice the pulling force of a conventional prime mover, Mammoet said. Fewer prime movers are needed and it offers a tighter turning radius.
Mammoet has also been busy utilising its SPMT fleet on various jobs around the world. In 2018 the company claimed to have the largest SPMT fleet in the world, with more than 3,200 axle lines based at strategic locations. In September Mammoet announced it used local SPMT in both Bremerhaven, Germany, and the Port of Hueneme, California, USA to load and unload a zero-emission mobile harbour crane that was being transported between the two locations. In Saudi Arabia it used 56 axle-lines of SPMT to transport eight pipe rack modules, ranging in weight between 450 and 650 tonnes from the client's yard to the installation site. As part of the same job a 2,000 tonne wash tower was also transported nine kilometres from Mammoet's yard within the King Fahd Industrial Port to the installation site.
Mammoet using its SPMT fleet in Saudi Arabia
Another heavy lifting and transportation company that extensively utilises its global fleet of SPMT is UK headquartered ALE. In the UK it used 36 lines of SPMT to launch a 750 tonne ferry down a slope from the fabrication shop, down a slope, into the River Mersey.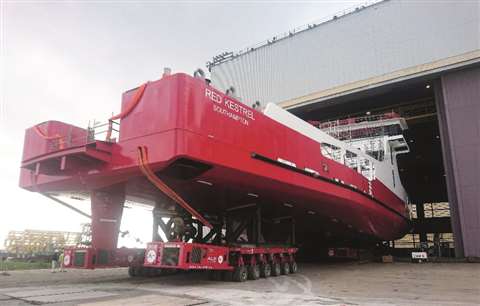 It also used 96 axle lines of SPMT in a configuration of 4 x 2 file 24, along with skid shoes varying from 500 to 1,000 tonnes capacity to lengthen two vessels in a shipyard in Palermo, Italy.
In South Africa ALE used two-file, 20-axle PSTs to load-in LPG vessels for transportation to a new LPG gas site at the Port of Richards Bay, near Durban.
ALE used two-file, 20-axle PSTs to load-in LPG vessels
In France ALE used 32 axle lines of SPMT in a 16 x 4 file configuration to transport two wind turbine nacelles from where they were made to barges for shipment to Rotterdam, the Netherlands and Blyth, UK. The nacelles are for the Haliade-X 12 MW which ALE says is the world's most powerful offshore wind turbine featuring the world's longest blades for a rotor span of 260 metres.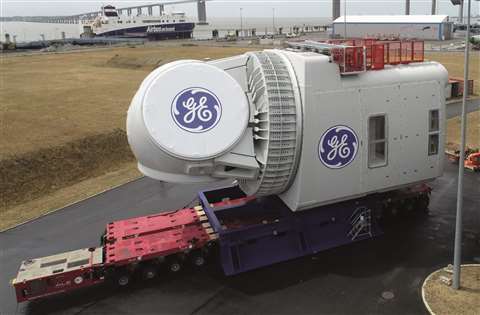 In France ALE used 32 axle lines of SPMT to transport two wind turbine nacelles
Shipshape for Groupe Cayon
French transportation specialist Groupe Cayon moved a transformer across Gennevilliers, France, for French energy company EDF (Électricité de France) using Cometto MSPE and a low bed semi-trailer. The transformer was 6.4 metres long and weighed 85 tonnes.
The six-axle MSPE was loaded with the transformer at the quay in Gennevilliers, where the transformer had arrived via boat on the River Seine. "Thanks to the MSPE's overall length of just 11.45 metres we had no problem getting to the ship's mooring position," says Matthieu Lapczynski, project leader for special transport at Groupe Cayon.
Two low bridges along the route meant that the transformer had to be temporarily loaded onto a 4+6 low bed semi-trailer before being reloaded onto the Cometto MSPE for the final leg of the journey. "There wasn't much room at the destination but with the self-propelled vehicle we were able to position ourselves well to subsequently install the transformer," concludes Lapczynski.
Last year Groupe Cayon purchased four 48 tonne Cometto MSPE self-propelled modules (a total of 20 axle lines). The order included two six-axle MSPE 6/4 48 tonne modules, two four-axle MSPE 4/2 48 tonne modules, two power packs (with an output of 129 kW each), and side-by-side coupling accessories.