SPMTs on the move: heavy lifting specilist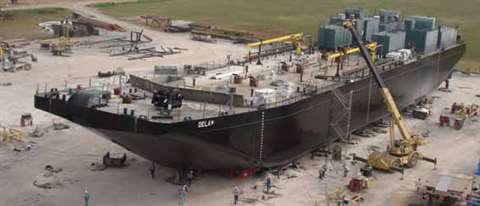 Havator Oy, the Finish heavy transport and lifting specialist working throughout Scandinavia, has taken delivery of the first 52 axle lines of Goldhofer PST/SL-E. A similar number is on order for 2008. The PST/SL-E is Goldhofer's latest product in the sector of self-propelled modular transporters, better known as SPMT.
Like the SPMT the PST/SL-E also has electronic and computer controlled multi-directional steering, offering steering angles up to +/- 135 degrees, enabling different steering modes, for example, counter steering, diagonal, 90 degree transversal and carousel. Goldhofer supplies the E-type in four- or six-axle line trailer modules, offering a maximum axle load of 40 tonnes and a tractive force of 140 kN per driven axle line. An axle line is two pendulum axles and eight wheels.
Hydrostatic power is provided by one or more Power Pack Units, depending on the trailer configuration, with an output of 360 kW per PPU. Hydrostatic propulsion allows for variable speeds from a slow creep to a 17 km/h maximum, depending on overall weight and gradient. Due to the computer controlled steering, trailer set-up allows for two or more trailers to work in combination, without mechanical interconnection.
This last feature was especially valuable for Havator on one of its first contracts. On completion of the extension to the Port of Pori in Finland three large rail mounted harbour cranes, weighing 500, 610 and 700 tonnes each, had to be transferred to the new port area. Havator opted to use its new Goldhofer PST/SL-E in two 16-line trailers, each with a PPU, to move the first 610 tonne crane.
The crane, built by Ansaldo Reggiane, was 25 m long, 22 m wide and 60 m tall. To guarantee sufficient stability, Havator engineers worked out a detailed loading method, including fabricating additional supports to the crane's 'n'-shape base frame, temporary support beams and load distribution girder beams on the trailers. The support beams were pre-installed using a Havator crane. To guarantee maximum stability, each 3 m wide trailer was manoeuvred underneath the crane base frame and its temporary support beams, close to the rail bogies on each side. Using the hydraulic suspension of the trailer, which offers a 600 mm lift from its lowest position (1,200 mm standard driving height, +/- 300 mm), the crane was lifted from the rails.
Onboard the two Goldhofers, which were only interconnected by a wire to both computers in the PPUs and driven by one man using his remote control, the crane travelled 2 km across the port area. The journey included several manoeuvres and tight spots. The computer supported steering synchronisation guaranteed that both trailers stayed in position during all phases of the move. Once the crane arrived at its new location, it was exactly positioned by using the 90-degree transversal steering mode, before being safely lowered on to the rails again.
Interconnection
In 2006 Havator acquired Kuljetusneliö Oy, the Finish heavy transport company with its large fleet of Goldhofer THP/SL conventional modular trailers. Goldhofer designed its PST/SL-E type on the basis of its THP/SL, in such a way that both types can be coupled, although multi-directional steering will be limited.
A good example of using both the PST/SL-E and THP/SL in one trailer set-up was the load-out of two new tank barges by Berard Transportation, Inc. in New Iberia, Louisiana, US. Berard was the first company to buy PST/SL-E trailers in 2005 and now operates a fleet of 40 lines, in addition to a fleet of conventional THP/SL.
Traditionally, Berard is active in offshore and shipyards and regularly moves heavy and large structures on site and on and off barges etc. in so-called load-outs and load-ins. That often requires a substantial number of axle lines but, not necessarily, E-type only.
Limited manoeuvring or moving in a straight line allows for conventional modular trailers with mechanical steering. Berard balanced both types of trailer to optimise its use and maximise return on investment and, therefore, opted for the possibility to operate both PST/SLE and THP/SL in one trailer set-up. To synchronize the steering of both mechanically and electronically steered modules, Berard acquired Hydronics. This additional tool was used on the load-out of two new 1,700 tonne tank barges. Each barge was almost 90 m long, 18 m wide and 10 m high.
A total of 72 axle lines, divided in two 36 line trailers, were used for the move. Berard used both its mechanically and electronically steered modules in each trailer. After assembling the trailers on site and covering the loading platform with a layer of wooden mats, for load distribution and protection, they were driven underneath the first vessel that was supported at height from temporary supports.
Again, the trailer hydraulics allowed for lifting the barge free from its supports so it could travel to the quay. During travel the required steering was fully synchronised by the Hydronics. At the quay a floating dry dock was positioned to receive the barge. In a controlled ballasting operation both trailers and the barge, weighing 1,960 tonnes in total, rolled step-by-step onboard the dry dock.
When in the dry dock, the barge was lowered on to temporary supports again so the trailers could be driven back on land. After completion the dock was floated and, with that, also the barge. To move the second barge, the trailers were relocated by barge to a yard area close by to repeat the operation.