Sponsored content - Precision transport within limited space amidst strong winds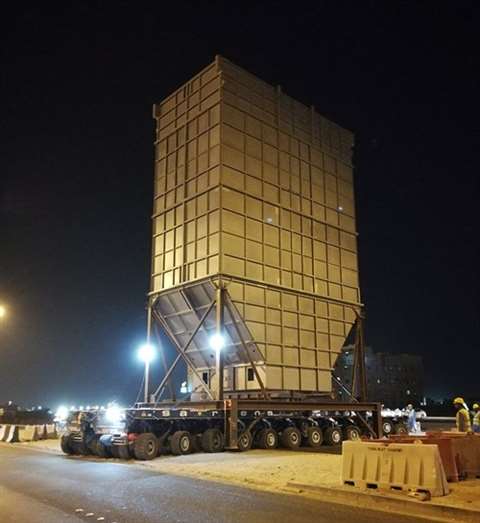 Sarens was commissioned by Fives to undertake the transport and installation of Ozeos Filters and Pot Tending Machines (PTM) for Aluminium Bahrain B.S.C. Potline 6 Reduction Plant. The team will deliver 36 pre-assembled Fives' Ozeos filters for the 2 Gas Treatment Centres (GTC). The filters are being transported at an average rate of one filter per night since March. In addition, 12 pre-assembled Pot Tending Machines (PTM) will be delivered and installed in the pot room at Line 6 plant. This is the first time that Fives had delivered its completely pre-assembled sections by SPMTs.
Sarens deployed its 24 axles lines of the new rebuilt edition of Kamag K24 trailers (K24-R). Each Ozeos filter weighed around 49T and measured 9.4mx6.5mx16m, whereas each PTM weighed 150T and measured 24.3mx12.3mx10.6m.
While transporting the filters it was a challenge to transport a light load with a relatively large wind sail area that affected the stability of the transport. All the transports were carried out through public roads. Movement permits and coordination of authorities was under Sarens scope, both of which makes the time frame for movement very tight and acute. Driving through King Hamad Highway, one of the most busy highways, required precise collaboration amongst all team members to move the load and manage the traffic with the assistance of police and the client.
Transport of the PTMs was another challenge as it was for the first time ever that the client transported a full PTM on SPMTs. According to Sarens project manager, "We had no experiences to build upon. Transport again was through public roads. Installation was within a 5mm clearance between the PTM sides and building edges." He adds, "Accurate steering and focus was required all the time. Transportation took place at night whereas the installation had to happen on days."