Sponsored content: Sarens at work in Algeria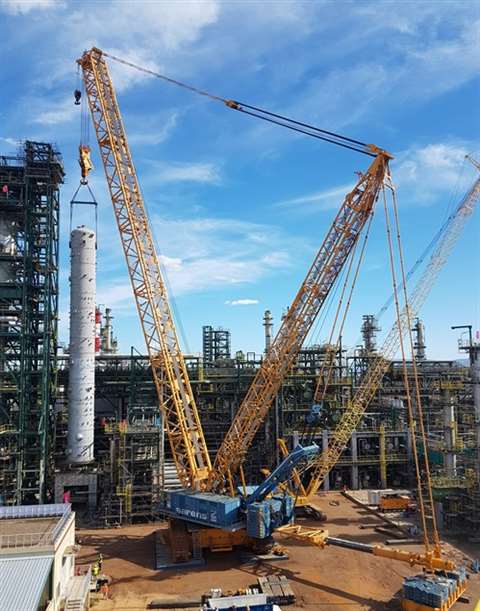 January 2019: In 2010 Algerian national oil company Sonatrach began a refinery rehabilitation project in Sidi-Arcine, east of their Algiers refinery in Algeria.
This US$408 million project promises to increase refining capacity from 2.7 to 3.6 million tonnes per year, and includes the modernisation of a crude distillation unit, aromatic facilities, and catalytic reformer unit as well as associated auxiliary units. It also involves the construction of isomerate, para-xylene, and benzene units.
Sarens was commissioned to lift the refinery's main column (530-C-021) in September. The project was contracted to Technip SA. Sonatrach later appointed China Petroleum Jilin Chemical Engineering and Construction (JCC) to undertake construction work and replace the original column, with Technip's assistance.
To execute the move Sarens selected the following equipment:
CC 2400 in SL170T @ 30 metre configuration
CC 9800 in SSL 84 metre configuration
Sarens already had the CC 2400 in Algeria. The CC 9800, meanwhile, was shipped from Belgium to Algiers by boat and was rigged within 12 days.
The Sarens crew slewed to lift out the old column, weighing 188 tonnes and measuring 44 x 34 metres, and replaced it with the new column. Two crane operators and one lifting supervisor were involved in the operation, which took a total of three months to mobilise, execute, and demobilise. Sarens commends everyone involved on another safe and successful operation.