Sponsored Content: Sarens forms a specialized wind operation team in India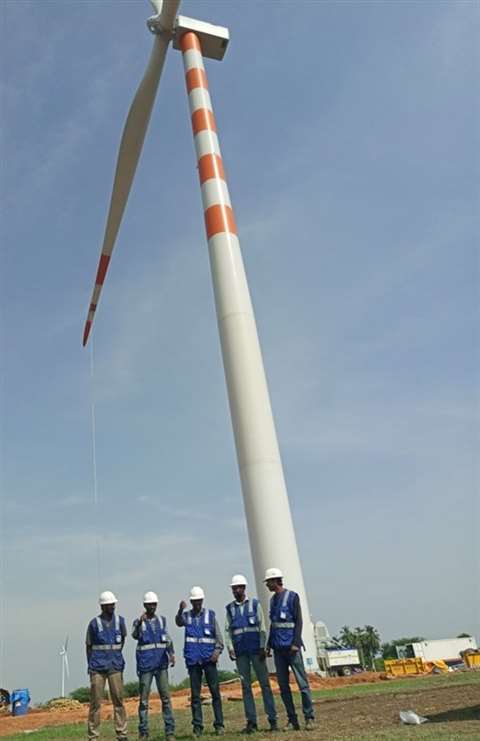 July 2018: Sarens in India has seen a growing demand from the wind sector. With a shift towards green energy, there are a number of wind turbines being installed across the country. To address the changing needs and provide right solutions with an experienced team to the client, Sarens formed a specialised wind operation team in India.
The crew consists of experienced wind operation staff who have a proven experience with new designs of wind turbine generators and the best practices for installation. The newly formed team undertook their first operation by installing wind turbine in Maniyach, Tamil Nadu for our client Mytrah Energy Pvt. Ltd.
The team installed GE's 2.4MW WTG model with a hub height of 94m and rotor diameter of 116m. The tower of the turbine comprised of four sections. The weight and dimensions of the different components were as follows:
Top Tower - Weight (40.4T); Length (30m); Diameter (3.4m)
Mid A Tower - Weight (46.4T); Length (26m); Diameter (4.3m)
Mid B Tower - Weight (42.2T); Length (18m); Diameter (4.3m)
Base Tower - Weight (57.7T); Length (18m); Diameter (4.6m)
Nacelle - Weight (69T)
Rotor Weight - Weight (64T)
Blade - Length (57m)
The installation process took place in the following stages:
Foundation preparation - Levelling and marking
Base tower preparation, installation and grouting
Base tower tensioning followed by Mid B, Mid A, Top tower and Nacelle installation and torqueing
Hub placement and blade assembly on ground
Rotor preparation for final installation
Rotor installation and mechanical completion
Generator alignment
WTG internal electrical cable laying, cable termination
Necessary routine test to make WTG ready for commissioning
The team successfully and safely installed the wind turbine and the client lauded the efforts of our team. The wind operations team is available to undertake dedicated wind installations in India and neighbouring regions. For more information, do not hesitate to get in touch with us at info@sarens.in.