Sponsored Content - Sarens installs 85T footbridge linking two key parts of the Manchester airport T2 extension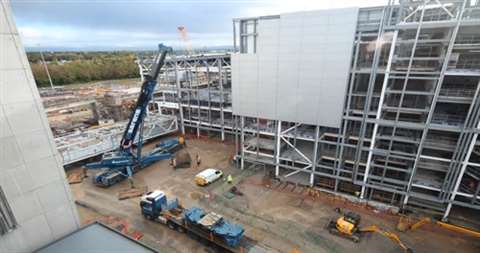 November 2018: Sarens worked for William Hare to install a huge new footbridge linking two key parts of the Manchester Airport extension. The bridge links the extension to Terminal 2 and the new multi-storey car park. It is part of the £1 billion facelift of the Manchester airport and will open in 2020.
Since the site for the installation was 300m away fro the live airport, it was crucial to ascertain the type of equipment deployed and ensure safety. Moreover, the equipment had to be planned to arrive at the site 'just in time' as the site was very compact. Sarens decided to deploy
Two LTM1160 - Main boom 32te counterweight

LTM1750 - Main boom, Y-guy, 204
SPMT
Two small LTM1160 cranes were deployed to load the bridge section in a laydown area to save on space and time so that the main crane LTM1750 could be rigged while the bridge was being loaded. The equipment was transported from London and Middlesbrough. LTM1750 travelled through the night to ensure it arrives in time. Nine trucks were used to transport SPMT and the 3 cranes. The two LTM1160 cranes were set up in a day while the main crane LTM1750 was assembled a day before the main lift, after the bridge had been transported and positioned in the lifting location.
Project manager, Alister Smith says, "The 85T footbridge was positioned with the SPMTs and LTM1160 before the main crane arrived. The LTM1750 lifted the 45m long bridge to a height of 8m to finally position it precisely between the two buildings." He adds, "Safety was key for the project due to its close proximity to the live airport but our crew completed the job safely in four days."