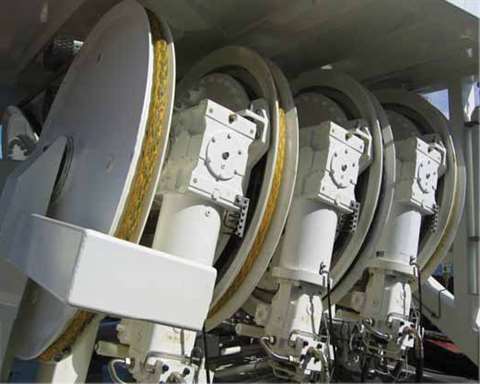 Cortland Puget Sound Rope manufactures high performance fibre rope for heavy marine offshore oil exploration and industrial applications. The company, based in Washington State, US, works closely with winch manufacturers to ensure technological advances in rope production are complemented by equally evolved winch systems.
One of these, Odim's Cable Traction Control Unit (CTCU), appears in this issue's News with its newly developed 125 tonne version. While Puget Sound Rope is not involved with that model, its BOB rope has been used with the CTCU on the Independence Hub project in the Gulf of Mexico, where it performed more than 100 lifts at depths of about 2,500 m. The winch and rope are now working off the west coast of Africa on another project.
Euan Youdale: How has fibre rope developed over the last few years?
Randy Longerich: The biggest development has been in the advances made in the types of fibre available, specifically in the area of high tenacity materials. Fibres made from high molecular weight polyethylenes (HMPE) and others have enabled rope manufacturers to produce constructions that have strengths equivalent to wire rope on a per-size basis, while weighing as little as one seventh that of the same size steel wire rope. These materials also have low elongation properties, so synthetic fibre ropes made from these fibre types exhibit performance properties similar to those of steel.
EY: What role do you see fibre rope playing in the next five to 10 years?
RL: High performance fibre ropes are already utilised extensively in numerous diverse applications involving the use of winches. Many of these applications depend on synthetic fibre ropes because of potential handling issues associated with the weight of the line. This can range from large diameter, 80 mm, ropes used on tug boats to extremely long lengths of line used in the installation and/or recovery of large payloads in extreme water depths. Other advantages associated with synthetic fibre ropes include torque-free constructions, ease of splicing, even in the field, excellent flexibility and no requirement for lubrication. If any of these properties, i.e. weight reduction, no torque, etc, are of potential interest in applications specific to cranes then fibre ropes certainly can be utilised as necessary.
EY: How have winches developed to accommodate fibre rope and what still needs to be done?
RL: There are numerous types of winch design that are either currently used with synthetic fibre ropes or are in the development stage. Standard drum type winches have been used for many years; however, even the conventional design of drum winch is being modified to optimise its use with high performance rope constructions.
Recently offshore construction and oil-related operations in deep water have focused efforts on alternatives to the drum winch, with special emphasis on the development of traction winches that are designed specifically for fibre ropes. In particular, the Cable Traction Control Unit (CTCU) developed by Odim has proven itself as a successful design and has been used in deep water operations in the Gulf of Mexico, the North Sea and other offshore locations.
EY: What developments have your company made in the technology and what tests have you made?
RL: As indicated, recent emphasis has been on the development of ropes and winching systems for use in offshore operations. Of particular concern in these types of application is the ability of a high performance synthetic fibre rope to provide good bending fatigue resistance. This is an issue because offshore operations often must use active heave compensation to stabilise payload movement in response to vessel motions induced by waves. This can require the rope to move rapidly and back and forth through a short distance over sheaves, often for extended periods of time while under significant loads.
Puget Sound Rope has been extensively involved in testing bending fatigue, both through participation in various Joint Industry Programs such as DISH (Deepwater Installation of Subsea Hardware) and in-house test programs.
One of the results of this testing has been the development of a single braided rope construction called BOB (Braid Optimised for Bending). BOB is a proprietary blend of high performance fibres and coatings that has exhibited enhanced resistance to bending fatigue compared to other types of materials and/or rope constructions. However, since the issue of bending fatigue includes many variables such as the size of the sheaves, cyclic speed, loads and other factors, research into bending fatigue resistance is a continually ongoing issue.