Standard Plant Hire invests in Thwaites
Standard Plant Hire, a family-owned rental company based in the UK, has announced a deal with Thwaites distributor Lister Wilder for 100 Thwaites dumpers.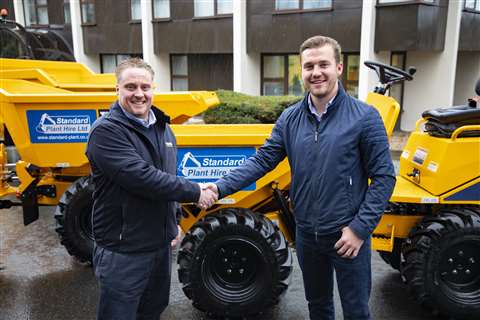 This brings Standard Plant Hire's total rental fleet to 1,500 unites, including 250 dumpers.
The latest additions range from front tip to power swivel dumpers, across 1 tonne, 3 tonne, 6 tonne and 9 tonne machines.
Standard Plant Hire Managing Director Michael Fleming said, "The Standard Plant Hire procurement strategy is 'best brand' purchasing. This policy gives our customers the best dumper on the market and our business an asset that is easy to manage and service."
He added, "Aligned to a typical three-year term of ownership, we see great residuals and a fleet that delivers the very latest dumpers to our customers".
Standard Plant Hire is celebrating its 10th anniversary this year.