Start-up for world's largest TBM
By Chris Sleight10 June 2015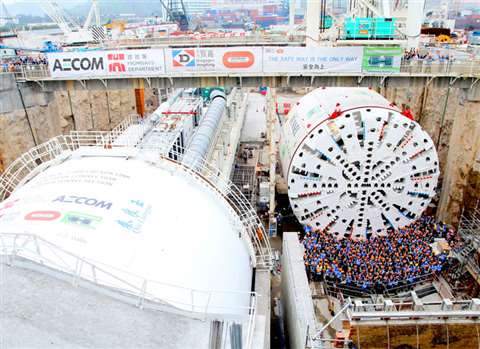 Bouygues has started excavation on the Tuen Mun – Chek Lap Kok tunnel in Hong Kong, using what it says is the world's largest tunnel boring machine (TBM). The 17.6 m diameter machine was supplied by German manufacturer Herrenknecht.
The Tuen Mun – Chek Lap Kok link is part of the wider connectivity project for the Pearl River Delta, which includes the Hong Kong - Zhuhai – Macao bridge. The 5 km long tunnel will connect the Hong Kong Boundary Crossing Facilities transportation hub adjacent to Chek Lap Kok international Airport with Tuen Mun on the Northern (mainland) part of Hong Kong.
The TBM will excavate a 5 km long sub-sea road tunnel, which will pass some 50 m below the water level in pressures as high as 5 bar. According to Bouygues, the tunnelling project will involve some 800 workers.
The contractor added that the TBM features a series of innovative features. These include a system called Mobydic in the TBM cutter heads which monitor wear and map progress in real time. A further system called Telemach is a robotic arm which can change cutter wheels on the TBM head. Another robotic system called snake is used to clean and unclog the TBM cutters.
The HK$ 18.2 billion (US$ 2.3 billion) tunnelling contract is being carried out by Bouygues Construction and its Hong Kong Subsidiary Dragages, and completion is scheduled for the end of 2018.
The overall cost of the Tuen Mun – Chek Lap Kok link construction work, is put at HK$ 44.8 billion (US$ 5.8 billion).