State department orders Moogs
By Euan Youdale18 June 2015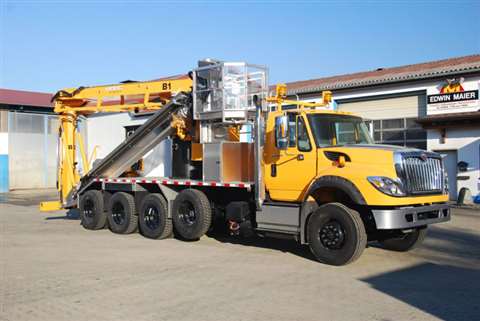 The New York State Department of Transportation has taken delivery of four Moog bucket type units to use for bridge inspection and light repair work.
It is in addition to 10 Moog units it already owns. The four MBL 1600s were mounted on USA chassis supplied by International Trucks and delivered to four difefrent loacations in New York State between March and May 2014.
The MBL 1600 as a bucket type unit has some clear advantages to the MBI platform type units, said the manufacturer. Apart from the lowering depth of 18.5 m and horizontal range under the bridge of 16 m, the unit is also able to reach a working height of 19 m.
Inspections of steel cables (on cable bridges) or replacing luminaries in street lights pose no problem for these units. The unit can be operated directly from the bucket in all working positions while driving at a creep speed.
The bucket of the unit is 1.35 x 1.25 m and has a maximum load of 280 kg. Additionally, it is equipped with and supported by a diesel generator so it is possible to use electrical tools while working in the bucket. Pneumatic tools can also be supported by the on-board air compressor.
Both rotation areas of the unit – on the one hand the 270° rotation area at the rotation tower and on the other hand the 180° rotation area for the boom – enable flexible application, especially when inspecting truss bridges, said Moog.
The NYSDOT operating staff were trianed for four days on the operation and maintenance of the unit in April. They are now using the units in their first applications.