Staying connected with radio control
By Laura Hatton27 April 2015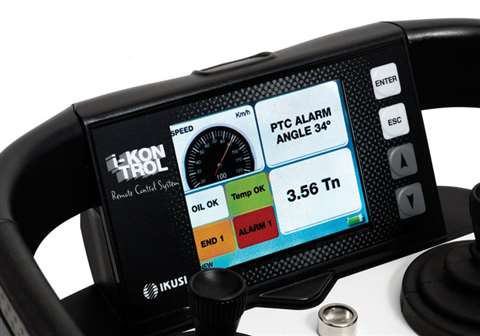 When it comes to working in oil and gas and other hazardous sectors, operating machinery by remote control can be a key element in keeping operators safe and increasing site efficiency. Manufacturer Cavotec, for example, has been working with suppliers and end users in hazardous industries for several years and has found that safety is a key factor for end users.
Michael Scheepers, Cavotec media and investor contact, explains, "Our customers in the mining and tunnelling, and oil and gas sectors have perhaps been most ready to introduce remote control technologies for lifting and other tasks. The key drivers of this trend are steps taken by customers to improve safety for operators, improve operational efficiency by reducing downtime and maintenance costs, and to minimise environmental impact.
"[Remote control] systems enable the control of machinery and vehicles from a safe distance, sometimes many kilometres, thereby reducing the risk of physical injury or loss of life, minimising equipment damage and improving operational efficiency and ergonomics. Removing personnel from hazardous or arduous environments also improves working conditions."
To help meet these customer demands, Cavotec is developing a human operator interface (HOI), which combines both remote control technology and the ability to 'see' system data for mobile and static lifting applications. "Our HOI systems give operators the ability to accurately see operations in real time and receive information about system status, as well as control machinery remotely," Scheepers says.
Improving site safety and operational efficiency has also been a key driving factor in the development of remote controls for tower cranes. Manufacturer of remote controls Hetronic, for example, has introduced several systems for self erecting tower cranes and top slewing tower cranes. The remote units are designed to help operators attach, move and place the load with the highest accuracy, the manufacturer says. The units show data on a graphic display, allowing the operator to monitor the status of the crane in real time while using the remote. Tower cranes are typically operated with the GL, GL-3, GR, Ergo-MFSHL, Nova-L, Nova-XL and Nova-M transmitters. Hetronic also offers remote controls for hydraulic cranes. The controls are compact, lightweight and operator friendly, the manufacturer adds. Models used for hydraulic cranes include GL, GL-3, Hand Held MFSHL, Nova-L, Nova-XL and Nova-M transmitters.
Health and safety laws are also driving change in the design of remote controls. To meet stringent regulations, including EN ISO 13849-1, remote controls are fitted with emergency stop functions. The waist transmitter from manufacturer of remote controls Åkerströms, for example, is fitted with a tilt switch and active stop, which means that the units stop immediately if they are dropped. The Jupiter waist transmitter series is part of the Remotus family. The Jupiter range will be available in three standard models: a transmitter with eight buttons (Remotus Jupiter Era 8B), one with six buttons (Remotus Jupiter Era 6B), and one with four buttons (Remotus Jupiter Era 4B). The eight-button transmitter will also be available in the Mercury range. In this range symbols and functions are tailored to customer requirements. In addition, the buttons are designed to be used with gloves. The units are fitted with a graphical light emitting diode (LED) display and have an operating battery life of about 40 hours. Power output is adjustable and the transmitters communicate on radio frequencies 433-434 MHz, 863-870 MHz, and 902-928 MHz. They are IP67 rated and are suitable for indoor and outdoor use.
Andreas Hedström, Åkerströms sales manager, adds, "We now offer three waist transmitter models in our standard family Jupiter Era: Jupiter Era 90, Jupiter Era 100, and Jupiter Era 150. Jupiter Era 100 and 150 have graphical displays as standard and Jupiter Era 90 comes without a display. The waist transmitter is also available in the customisable range under the model name Mercury Era 100."
From radio control systems manufacturer Tele Radio is the new PL d rated robust transmitter. Part of the Panther industrial remote control system, the Panther PN-T19-2 transmitter has a safety classification PL d category 3 stop function. It is compatible with all existing receivers in the Panther product family and comes with a replaceable battery pack. A rechargeable lithium-ion battery is available.
Ergonomic designs
Designing the position and size of the buttons and joysticks on remote controls is another important factor. In some instances, controls are 'shaped' according to what applications they are to be used for, or designed with environments and weather conditions in mind.
The Thor B4 transmitter from factory crane remote control manufacturer IMET, for example, was designed with a focus on ergonomics. The manufacturer says the product is shaped according to its applications. The transmitter measures 296 x 152 x 147 mm, weighs 1,550 g and has 25 mm diameter motion buttons to allow easy use, even when operators are wearing industrial gloves. It is fitted with a stop function button.
"The transmitter is similar to the B3 but with the addition of a fourth, double axis joystick," the manufacturer says. "This makes it an ideal system for high integrity factory cranes, hydraulic cranes, crawler lifting machines and other special machines. In addition to the four double axis joysticks, the Thor console has space available for several on-off and proportional commands, making it an easily customisable transmitter for special applications with complex functions."
For electric hoists, overhead cranes, conveyors, small tower cranes, IMET offers the Wave S transmitter, which is available with four, six or eight double pressure motion buttons. All have a mushroom head stop button and a removable contactless safety key for restricted operation as standard, the manufacturer adds. The transmitter weighs 375 g. Customers can also add an optional rotary switch, push button, toggle switch or potentiometer.
Talking the talk
A vital requirement for any remote control is the connection between the transmitter and the receiver. To suit a variety of machines, manufacturer Scanreco offers three different receivers to accompany its new Pocket Transmitter. The system has automatic frequency management, which prevents interruptions caused by radio interference from other wireless equipment. Where an extended operating range is required, an extra Pocket can act as a repeater for the radio link.
To ensure that no other units interfere with the connection between the transmitter and receiver, the units use a unique identity code. In addition, the manufacturer adds that the transmitter can be configured to either only send data when a button is activated. The system operates in the 2.4 GHz frequency band and has an operating range of up to 300 metres.
The Pocket transmitter is battery operated and is available with three, four, six or eight one-step pushbuttons. It is water resistance to IP67 classification and has five programmable LEDs. The receivers are available with relays, MOSFET outputs and inputs or CANopen to suit different machines.
To help prevent frequency interference when in use, radio remote controls from Cavotec are fitted with a 'hot swapping' function to avoid any interruptions in automation and control processes. Michael Scheepers explains, "To increase the availability of radio remote controls in harsh environments, we are able to offer our frequency density (FD) and areal density (AD) twin solutions, which create a stable radio link crucial in these types of environments. An additional feature includes a smart pairing functionality."
The controls use a 2.4 GHz frequency wavelength and many of the models are also fitted with dual battery compartments for doubling operating time.
Clear displays
In addition to overcoming potential issues with frequency interference and ergonomics, visual displays on remote controls are also an important design feature.
Based around customer requirements, which included a range of different colours and the option of individual graphics, HBC-radiomatic released a new version of its micron 7 handheld transmitter. The new unit has a configurable thin-film transistor (TFT) display, which allows operators to see feedback data, status information and warning notices in increased detail. The display is navigated using a mini yuCON joystick.
The micron 7 has 10 two-step push buttons, one rotary switch and operates on the 2.4 GHz frequency band. It has a fully automatic frequency management system and a stop impact switch, the manufacturer adds. For activation of a spare transmitter the control uses the iLOG system. The unit is battery operated.
From remote control manufacturer Ikusi is the 3.0 version of the I-Kontrol range. The new control has a new CANopen return and an updated display that can show 4 x 20 characters, with or without light-emitting diode (LED), or in 2 x 10 characters with LED. "The new display offers the possibility of presenting information graphically, using different icons that can be chosen from an image galley, in four different formats: 1, 2 or 4 icons on display at the same time," a spokesperson from Ikusi explains. "Additionally, 10 characters associated to any of the icons can be written."
Modern designs
A slightly different approach to the traditional handheld remote control is available from Knorr-Bremse, a manufacturer of braking systems for commercial and rail vehicles. The company worked with specialized trailer manufacturer Goldhofer to design an app installed on a smart phone that allows the driver to control trailer functions. The intelligent Trailer Access Point (iTAP) app can be used for controlling Goldhofer semi-trailers with independent suspension, including the new MPA generation, the manufacturer said. It allows drivers with heavy loads, for example, to use their smart phones to adjust ride height.
Volker Schmidt, Goldhofer chief design engineer, explains, "The driver no longer has to leave the cab to make certain changes to the trailer. In the past, for example, the driver had to get out [of the cab] to adjust the axles on the trailer."
The system is installed directly on the trailer as an extension to the EBS module. In addition, it has its own wireless local area network (WLAN), independent trailer functions (which can be controlled independently of the tractor) and four pre-programmed and two freely programmable axle heights the manufacturer says. Access to the system is password-protected. The iTAP module also provides information on tyre pressures and monitors temperatures. In addition, if a tyre is damaged, the system automatically generates an alarm.
Stefan Fuchs, Goldhofer CEO, said, "I am delighted that we have been involved in the development work as the chosen partner of Knorr-Bremse and that we can once again offer our customers meaningful added value."