Steering innovation in North American trailers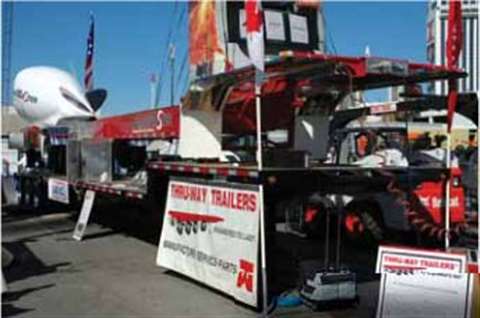 For almost 40 years Thru-Way Trailers from Milton, Ontario, Canada has manufactured heavy, specialized and purpose built trailers. These include double drops, jeeps and multi axle extendable types. At the US ConExpo show in March, Thru-Way introduced the BladeMaster, a two-axle steerable and extendable trailer especially aimed at carrying long wind turbine blades across North America.
When closed, the BladeMaster is 53 feet (16 m) long. Fully extended the three-stage central beam takes the overall length of the trailer up to 128 feet 6 inches (39 m). It runs on 255 70R tyres that give a rear deck height of 47 inches (1.2 m) and a front deck height of 55 inches (1.4 m) over the neck.
A remarkable feature of the BladeMaster is its steering system, based on the Active Steering Metrics (ASM) and Electronic Trailer Steering (ETS) designed by VSE from the Netherlands, a leading-edge trailer systems engineering firm. Thru-Way claimed that because of ASM and ETS the BladeMaster is lighter, safer, more adaptive and more cost effective than traditional trailers.
The systems are designed to allow optimum steering and manoeuvring, which improve capabilities, especially on small roads and on site. As the truck turns, a signal is sent through the king pin sensor that indicates the radius needed by the rear axles to curve around the corner. This allows for tighter radius for turning than traditional blade trailers, according to the manufacturer.
The VSE steering technology, which is also used on, for example, all European steerable Mercedes trucks, is designed around a software program that can be modified easily to meet individual transport needs. The custom-made ASM technology is a fully dedicated, microprocessor controlled, electronic-over-hydraulic steering system. In addition, the system provides for a hand-held remotely controlled unit that overrides the king pin sensor if independent steering and manoeuvring is required. It also has a built-in diagnostic system that displays automatic calibration routine results, diagnosis and driving parameters.
Thru-Way claimed that, despite using European technology, all parts and components used for the fabrication of its trailers originate from North America, avoiding cost and availability issues in that market.
Further innovation
Another remarkable development was revealed by Thru-Way, with Norwegian partner Vang, which was also at ConExpo. In a joint venture both trailer manufacturers worked on the design of a new modular trailer system aimed at the US market for specialized carriers and, more particularly, for the wind turbine industry. The preliminary design features include a basic three axle lowbed that can be transformed in steps by adding three-axle modules, in to a 12-axle trailer with a capacity of around 100 US tons (89 tonnes).
Thru-Way revealed that it is talking to customers about feasibility and their requirements. Thru-Way expects to have more details available later in 2008.