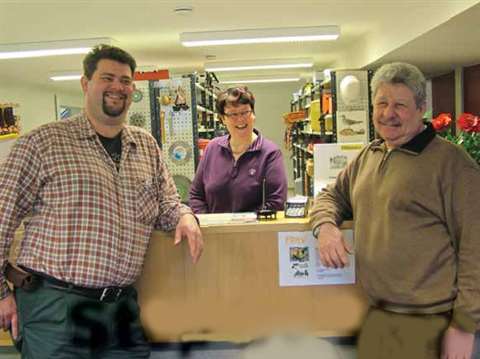 FRKV is living proof that small can be smart. The one-depot, family-owned rental company based in Forssa, southern Finland, has a new RKV is living proof that small can be smart. The one-depot, family-owned rental company depot that would not be out of place in any rental 'how t de, and the look seems to be matched by the performance of the business.
Founded in 1981 by carpenter Jorma Ahola and now managed along with his wife Tarja and son Petri, FRKV (its full name is Forssan Rakennuskonevuokraamo Oy) is making a good living serving the 18000 people living in Forssa and a further 80000 population within a 50 km radius of the depot.
The new headquarters – giving 600 m2 of clean office and storeroom space as well as 600 m2 of additional indoor storage – was required because they had gradually grown out of the previous 20-year-old facility. "After 20 years this will also be too small", jokes Tarja.
Its one, independent competitor was acquired by Ramirent several years ago andgui the Finnish giant remains its only local competition. In fact, says Jorma, FRKV focuses on smaller trade and builders rather than the bigger contractors favoured by Ramirent. He adds that these small customers look after the equipment better.
The family see the business growing steadily, and one thing in their favour is less seasonality to the business than in the past. Tarja says that 10 years ago the winter season from November to March was extremely quiet for rental; "Now, so seasonal – there is rental during the whole year."
The division of labour in the company is pretty clear, with son Petri responsible for customer service and generating new business, the father focusing on service, and Tarja in charge of bookkeeping and back-office administration. Decisions are made together, as a family, "in the sauna", jokes Jorma.
New depot benefits
The new depot represented an investment of 570000 for the company, and is doing more than providing a more amenable working environment. It also instills confidence in its customers; "A lot of customers have come to see it and think it looks good – they can now see all the equipment", says Petri.
Forssa is close to the head office of Dinolift, the Finnish manufacturer of trailer mounted platforms and self-propelled machines, so it is not surprising that FRKV owns several Dino trailers and self-propelled units. It also owns 14 scissor lifts, including several JLG machines. Less distinguished are 30- year old Finnish-built scissors which are definitely on their last legs. "They were very good - 30 years ago", says Petri.
The current business climate is good for the company. Rental prices have been stable for the past two or three years, and the company says it works hard not to compete on price.
Does FRKV have expansion plans? Just a few months after moving into the new depot, it is probably premature to talk about other depots. Petri says there could be an opportunity in the future, but says it would require more staff, more financial resources and more transport equipment. He d t say so, but you get the impression that they are happy with the business as it is, and in no big hurry to rock the boat. Smart indeed.