Strength to strength for US rental
By Thomas Allen19 February 2019
North American equipment rental revenue growth will continue to exceed economic growth over the next few years, according to the American Rental Association (ARA).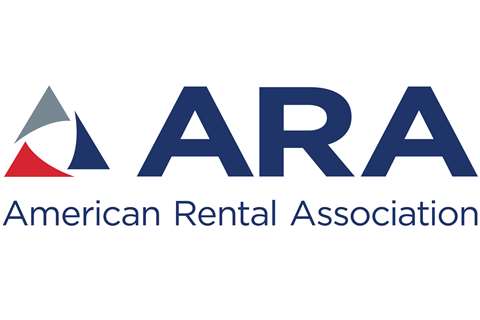 The latest statistics published by the ARA predict that equipment and rental revenues in North America will surpass $61.5 billion in 2019, of which $55.8 billion will come from the US and $5.7 billion from Canada. This would represent a 5.3% increase on the 2018 figure.
With similar growth rates predicted for each of the subsequent years of the forecast, revenues should get close to $70.9 billion by 2022.
Looking specifically at the US, equipment and event rental revenues are expected to grow by 4.8% in 2020, 5% in 2021 and 4.8% in 2022, reaching $64.4 billion.
These latest figures project slightly less growth than was forecast in October and this is due to the slightly slower expected growth of the US economy. Gross domestic product (GDP) growth in the US is forecast to be 2.5% in 2019 compared to 2.9% in 2018. The growth rate is expected to drop further to 2% in 2020.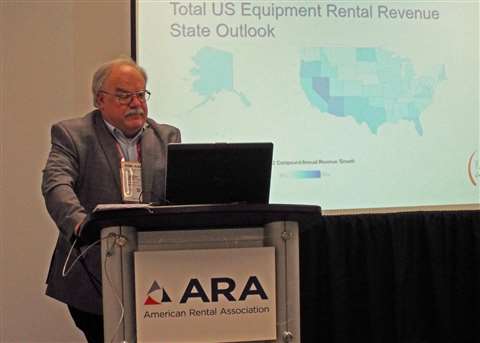 Speaking at the ARA Show in Anaheim, Scott Hazelton, Managing Director of IHS Markit – the consulting company that compiles data and analysis for the ARA's Rentalytics subscription service – said, "IHS Markit has lowered its GDP outlook marginally for 2019 and 2020, but this is not due to worries about a dramatic decline in the economy, but a recognition that trade policy has had some negative consequences, particularly in the manufacturing sector, and that the stimulus from tax cuts is wearing off for both consumers and businesses."
He added that, on the whole, the global economy is continuing to slow. However, domestic employment gains in the US remain strong and purchasing manager indexes remain in expansion territory, even if they have retreated. So the outlook remains positive.
Rental penetration – the percentage of total active construction equipment that is owned by rental companies – increased to 53.5% in the US in 2018, up from the 53% recorded in 2017.
Hazelton suggested that the steady growth of the penetration rate in the US could be attributed, in part, to the fact that contractors increasingly have a background in business studies. This means they are more aware of the benefits of the rental model.
In an overview of the equipment rental industry's impact on the US economy in 2018, the ARA said the sector employed almost 500,000 people and paid about $7 billion in taxes.
In Canada, GDP growth is predicted to be slow but steady, remaining at about 2% over the forecast period.
Rental revenues are expected to grow by 4.6% in 2019 to a total of almost $5.7 billion. Beyond 2019, they are predicted to continue expanding, by 5.8% in 2020, 4.8% in 2021 and 2.8% in 2022, reaching close to $6.5 billion.
John McClelland, ARA vice president for government affairs and chief economist, concluded by saying, "This remains a strong forecast for a growing industry that continues to expand faster than the overall economy."