Studdert informs in Brazil
By Euan Youdale18 February 2015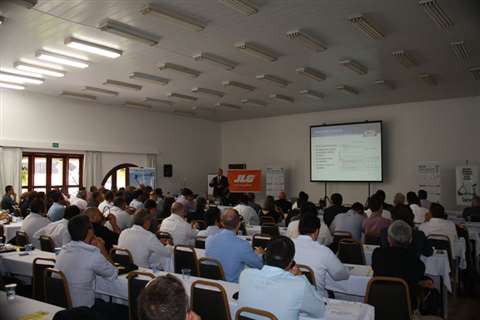 Andy Studdert, chairman and CEO of US-based NES Rentals, and deputy president of IPAF, had the full attention of a 100-strong audience at the recent IPAF ElevAÇÃO conference in São Paulo, Brazil.
He was there to provide local access companies insights into safety, creating value and preparing for a downturn.
Drawing on his extensive experience in the airline sector when he was COO of United Airlines and led the company through the 9/11 crisis, Studdert said that the most critical lessons for the access industry were to have repeatable processes, a culture of intervention, and crisis preparation.
"The process of loading, fuelling, checking, and flying a plane, or operating an aerial work platform, must be repeatable," he said in his presentation. "You have routines to become better at the task and refine the process. Having a repeatable process in any business, but especially aerials, allows you to improve safety. You need everyone to intervene when it comes to safety. Checklists are essential, but the people holding the checklist make the difference."
Mr Studdert went on to illustrate how repeatable processes, safety/intervention culture and crisis preparation can help build a profitable and safe company. Together with pricing, sales technology, talent selection/retention and people practices – these are part of the levers that companies can use to improve efficiency in the short term and improve organisational capacity in the longer term, in order to create value for stakeholders.
In a downturn, the quickest will survive and companies must be able to make difficult decisions early and cut costs before the "death spiral" sets in, advised Mr Studdert: "Revisit your practices to ensure you have done everything to be safe."
The IPAF ElevAÇÃO conference was part of a two-day event that involved close to 150 attendees and included a meeting of IPAF members in Brazil, a professional development seminar (PDS) for instructors, an exhibition and various workshops.
Presentations from the conference (mostly in Portuguese) and images from the event are available at the members only section of www.ipaf.org/pt
The next IPAF ElevAÇÃO will be held in Brazil in February 2016.