Studious preperation from Silverstar Scaffolding
By Euan Youdale10 September 2015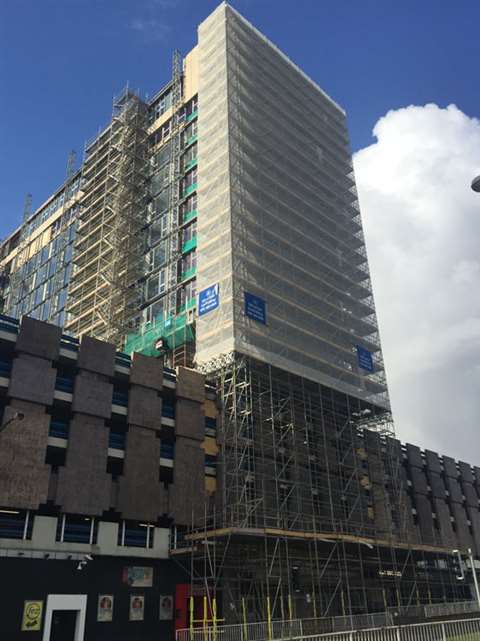 Silverstar Scaffolding is supplying Layher's Allround scaffolding for new student accommodation in Sheffield, UK.
The project is seeing the 1960's Telecom House in Sheffield being transformed into 366 Vita Student studios with the 14-storey landmark building set to grow with the addition of a new 15th floor. The project has had to accommodate a pedestrian walkway and an adjacent five-storey car park which, effectively, acts as a podium from which the residence rises above.
"Considerations that had to be accommodated included a significant gradient at ground level and restrictions associated with building directly from the top level of the car park," said Tony Clarkin, managing director of Silverstar Scaffolding. Pedestrian access is being maintained across the front of the building by the creation of a protective canopy using triple aluminium Layher beams while on the car park, Silverstar Scaffolding has built the scaffold from specially installed steel sections which were designed to minimise contact with the surface.
"The scaffold is particularly effective in areas where the façade layout prevented mast climbers being used," said Sean Pike, Layher's UK managing director. "Each scaffold lift was fully fitted out with Layher decking to give permanent access to all working faces with two full height Layher stairtowers also installed by Silverstar within the scaffold frame."