Successful Intermat for Keestrack
By Steve Ducker17 May 2018
Keestrack Group president Kees Hoogendoorn has said that visitor interest in the company at last month's Intermat exhibition in Paris "by far exceeded our expectations".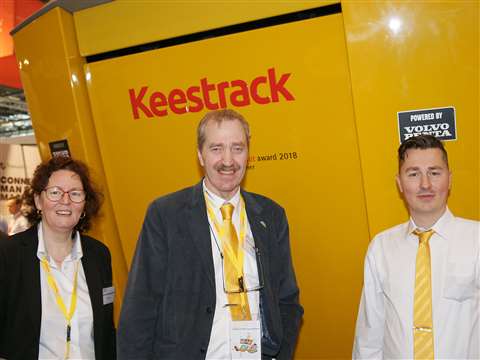 The Belgian company's stand including a world premiere, information about several new models and details of a new structure for its French dealer and service network, but Kees still admitted his surprise at the results.
"Experts throughout all relevant sectors were interested in our processing technologies. Enquiries did mainly focus on our crushing solutions and here in particular on our modern hybrid and full hybrid drive concepts."
In particular it highlighted the Keestrack R3e track-mounted impact crusher – the world premiere – which was named just before the show as a Red Dot award winner for outstanding industry design.
"After three years of development, the Keestrack R3e is the machine which combines all key features of our hybrid technology," said Kees.
"It perfectly applies to customer needs for compact high-performance crushers and reflects in an almost spectacular way our design philosophy, optimised in terms of safety and ease of operation.
"We received many enquiries, including very specific projects, on which we also discussed other solutions from our comprehensive range of crushing technologies. I am confident that following up the leads our international sales partners will generate numerous orders also at new Keestrack customers."