Sunbelt makes 27 acquisitions in six months
By Murray Pollok06 December 2022
Ashtead Group has made 27 acquisitions at a cost of US$609 million in the six months to 31 October. Most of the deals were in North America where it added 72 locations in the period, more than half of those through acquisitions.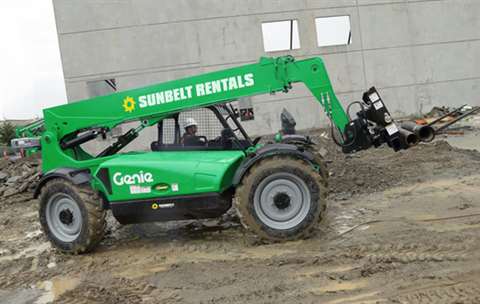 The company reported a 26% increase in group revenue to $4.79 billion for the first half year, with EBITDA profits 24% up at $2.25 billion. Sales in the US were 30% higher at $4.07 billion and 25% up in Canada at C$389 million.
Revenues at Sunbelt Rentals UK were down 2% to £361 million, because of the comparison period in the previous year when it was selling and renting equipment for hundreds of Covid testing sites.
Sunbelt's specialty rentals business in the US continues to expand, with sales up 34% in the period. It said the acquisition of Modu-Loc, a temporary fencing business in Canada, created the foundation for its eleventh specialty business.
Raises full-year guidance
Ashtead said it had momentum in its business and increased its rental revenue guidance for the full year, with its US business expected to grow by 20 to 23% (previous guidance was 17-20%) and the group as a whole by 18 to 21% (previous 15 to 17%).
Rental revenues in the UK are expected to be flat over the full year, although total revenues are likely to be down 8% because of the absence of the pandemic-related activity.
The company highlighted the growing importance of mega-projects in the US, with projects over $400 million in value representing 30% of all non-residential construction, up from 13% in 2000-2009. It said such projects were well suited to large rental companies with scale and breadth of product.
Ashtead's Chief Executive, Brendan Horgan, said the company performed strongly in all its geographies and had outperformed the market.
He said Ashtead's investment in acquisitions "is enabling us to take advantage of the substantial structural growth opportunities that we see for the business as we deliver our strategic priorities to grow our general tool and specialty businesses and advance our clusters.
"We are achieving all this while maintaining a strong and flexible balance sheet with leverage near the bottom of our target range."
He added; "We are in a position of strength and, with increased market clarity, have the operational flexibility to capitalise on the opportunities arising from the market and economic environment we face, including supply chain constraints, inflation and labour scarcity, all factors driving ongoing structural change."