Superlift project for Dufour Transport Handling
By Laura Hatton28 August 2015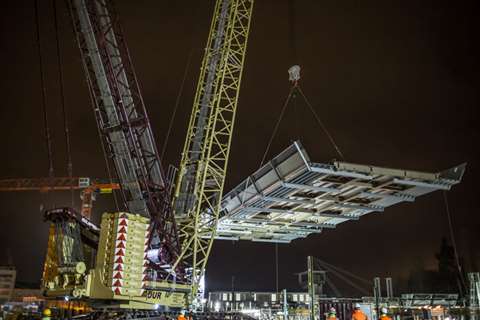 Lifting contractor Dufour Transport Handling used a Terex Superlift 3800 crawler crane to help install a footbridge over Versailles train station in France.
The footbridge is part of the Grand Paris development project and goes over the Versailles Chantiers train station. The station serves nearly 70,000 passengers each day, so to accommodate the growing number of passengers the National Society of French Railways (SNCF) decided to add a pedestrian bridge over the railroad tracks for easier access to the station.
The station is in the city centre of Versailles so the project site was very congested, Nicolas Devianne, Chargé d'Affaires for Dufour Transport Handling, explained. In addition, when the metal footbridge was lifted over the tracks the Versailles train station had to be temporarily closed.
"For one weekend, the station was completely closed and, during lifting operations, train traffic was also fully stopped from Paris to the south of France, which rarely occurs," Devianne said. As a result, 350 buses had to be arranged to accommodate.
One of the bridge components weighed 80 tonnes and the second weighed 111 tonnes. To lift the sections into place the Terex Superlift 3800 was configured with 225 tonnes of counterweight on the superlift tray, 50 tonnes of counterweight on the carrier and 90 metre boom. The crawler was erected with the aid of a 250 tonne capacity class Terex AC 250 all terrain crane. It took three days to assemble the crawler ready for lifting.
Working in the confined area, the smaller of the two bridge sections was lifted at a radius of 76 m and hoisted into place. The crawler then hoisted the heavier 111 tonne metal segment into position working at a radius of 51 m. Both bridge pieces were installed over one weekend, allowing Versailles Chantiers train station to reopen on schedule.