Support ended for tidal lagoon project
By Thomas Allen28 June 2018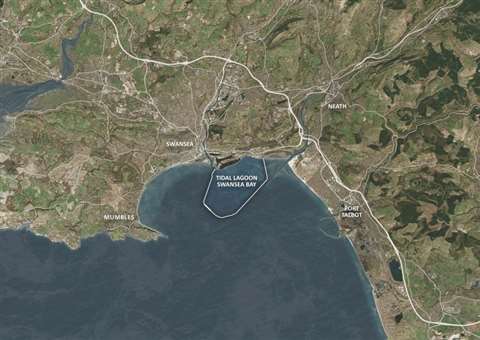 The UK government has decided not to support the £1.3 billion (€1.5 billion) Swansea Bay Tidal Lagoon project in Wales.
Despite claims by the developers Tidal Lagoon Power (TLP) that a revised offer had made it cheaper, Business & Energy secretary Greg Clark said the project was not good value for money.
"Securing our energy needs into the future has to be done seriously and, when much cheaper alternatives exist, no individual project, and no particular technology, can proceed at any price," Clark said.
Having secured £200 million (€226 million) of funding from the Welsh government, TLP had asked for a 90-year contract with the UK government with an average strike price – a guaranteed price for the electricity generated – of £89.90 (€101.60) per megawatt hour. This compares to £92.50 (€104.51) per megawatt hour for the new Hinkley Point C nuclear power station, over a 35-year period.
It was said that the project would have been the world's first tidal power lagoon.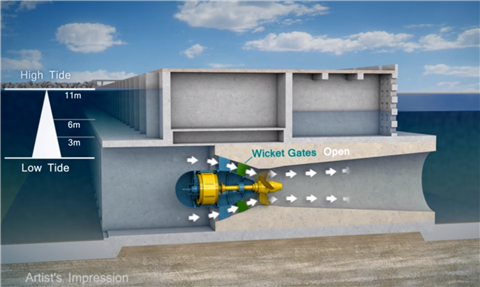 A bank of hydro turbines would have been set in a 9.5km U-shaped breakwater built out from the coast. A differential created between the water level inside the lagoon and that of the surrounding sea would have created an opportunity to harness energy as the water either wanted to flow into the lagoon or out of it as the tide changed.
Power would have been generated as water rushed through 60m-long draft tubes, rotating the 7.2m diameter hydro turbines, of which there would have been 16. It was estimated that enough electricity would have been generated to power 155,000 homes over a 120-year period.
The project was intended as a pathfinder project that would have provided a scalable blueprint for further tidal lagoons around the UK.