Survey reveals IT priorities of equipment firms
By Murray Pollok05 January 2018
A new survey into the IT strategies of construction equipment businesses – rental companies, distributors and OEMs - reveals that less than 50% have a comprehensive IT or digital strategy, and in the case of rental companies it is fewer than 40%.
The research also showed that almost a third of businesses have no IT strategy at all or invest only when absolutely necessary.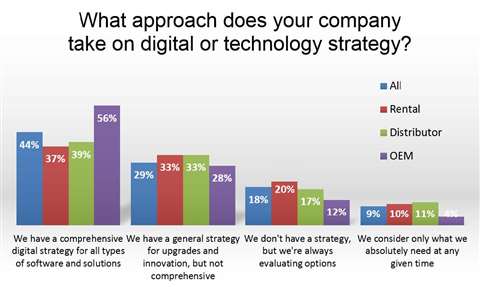 The survey was carried out in November by enterprise software specialist Infor in cooperation with KHL Group and IRN magazine. Respondents were asked about their main operational challenges; priorities for IT investment; and their views on technologies such as telematics, the Internet of Things (IoT) and Augmented Reality (AR).
The White Paper discussing the survey results - Business transformation: operational challenges and IT solutions in the construction equipment market – can be downloaded for free from the KHL website.
The most popular goals for IT investment are to increase operational efficiency and enhance customer experience and engagement. However, efforts to use technology to provide real-time visibility of operations were hampered by lack of time to analyse data; by lack of accurate or timely data; and by problems integrating multiple IT systems.
When it comes to equipment servicing, the survey found that a large proportion of companies are using CRM (Customer Relationship Management) systems or internally created spreadsheets, rather than dedicated service management systems. Around a quarter are still using paper and clipboards to help manage service operations.
Telematics systems are now widely available, although it seems their use is still not universal. Companies said tracking of the use of equipment on site was the key application for telematics, followed by tracking of field service operations and, third, as an aid to billing accuracy. Theft prevention was seen as a benefit but considered less important than applications focused on operational efficiency.
It seems that emerging technologies such as Augmented Reality (AR) and the Internet of Things (IoT) – where by data sensors and 'black box' systems can record and analyse a vast amount of information about equipment - have yet to make a big impression in the industry.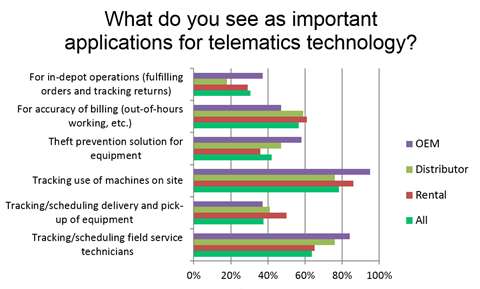 Almost 60% of respondents – and rising to three quarters in the case of rental businesses - said they were not using IoT technology or telematics. They key applications for IoT solutions were seen as smart scheduling of equipment maintenance and repairs followed by the reduction in the lifetime cost of ownership of equipment.
Meanwhile, less than 50% of respondents thought that AR would be important or very important for their business and almost a third said they were either not sure or saw no applications for the technology.