Surveying: Onwards and upwards
By Thomas Allen24 October 2018
Surveying has always been about the collection of data, but new digital technologies are making it possible to generate huge numbers of highly-accurate data points that can be collected more frequently and fed into digital twins of construction sites.
As the construction industry increasingly embraces Industry 4.0 – the trend towards automation and data exchange – the various elements of the construction process, from the supply of materials through the use of construction machines to maintenance after completion, are becoming more and more aligned. This shift is being facilitated by the use of new digital tools such as smartphones and drones, which are having a drastic effect on the world of surveying.
Efficiency gains
Isachsen, the Norwegian-based subsidiary of BetonmastHæhre, has reported 75% efficiency gains in construction site surveying as a result of using drones in conjunction with smartphones.
The measurements and subsequent reports generated by the firm's surveyors were said to be vital to keeping a project on schedule and budget, while also being useful for communicating project progress to clients and settling potential disputes.
However, Isachsen faced problems when its team of surveyors was stretched thin, driving from one project to another to verify data and match it to design specifications – particularly on excavation and sitework projects.
The company's drone operator and surveyor Trygve Almquist said, "We needed a better process to visualise, measure and verify as-built data, ease surveyor stress and improve efficiency."
The answer was found in a phone-based site survey approach that uses Pix4D's photogrammetry software. It enabled field operators to use a smartphone to generate survey data and thereby continue operations without waiting for a surveyor to arrive on site.
Once a task is completed, whether it be digging a hole or laying a pipe, the construction crew paints four or five red marks around the completed area. Each of those points is then measured by a machine operator using the equipment's GPS so that they can be used as ground control points. A video is then taken of that area of the site using a smartphone and sent to the chief surveyor along with the data for the ground control points.
Almquist said, "It takes approximately two minutes for a technician to video the site and four minutes to measure the control points with the excavator's GPS. Processing back in the office takes 12 to 15 minutes – certainly less time than it would take for the surveyor to drive to the project site.
"Better yet, once the video is complete, the construction crews can continue with their work, instead of pausing to wait for the surveyor to get to the site."
Technology-enabled
Isachsen has also since incorporated the phone video/Pix4Dbim site survey process into its standard technology-enabled sitework practices. Typically, the Isachsen construction team flies one of its DJI Phantom 4 drones over a work area throughout the course of a project to gather data that is then georeferenced and processed using Pix4D software to create a 3D topographical plan for the required work. That plan is sent via the cloud to the GPS-enabled excavator's mapping system so that the next phase of work can begin.
The final georeferenced product was said to be a 3D LiDAR-like point cloud that can then be sent to the construction site manager to verify that the as-built specifications match those of the original plan.
Oxford Direct Services (ODS), the service delivery and commercial arm of Oxford City Council, recently launched a scheme that employs drones to carry out surveys of roofs, buildings and land using aerial photography and filming.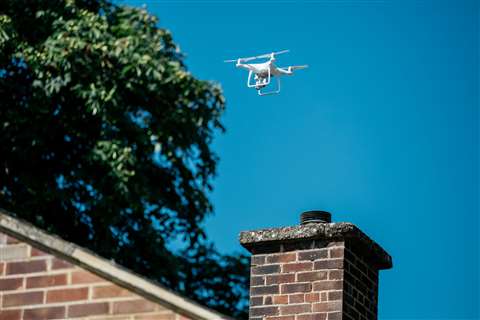 It was said that this is the first time a council-owned organisation in the UK has brought drone services in-house.
ODS is Civil Aviation Authority (CAA) licensed and approved to offer commercial services with qualified and insured pilots. ODS is required to operate in accordance with best practice, and GDPR rules and regulations in relation to permission to fly, safety and the privacy of residents.
Initially, ODS will focus on surveying the roofs of 7,800 properties it maintains on behalf of Oxford City Council. It is believed that the use of drones will save time, drive down costs, and reduce the health and safety challenges typically encountered with this type of work. Commercial surveying, mapping, aerial photography and filming will be competitively priced consistent with each customer's specific requirements.
It was said that drones were a clean, environmentally-friendly and relatively quiet and unobtrusive way of surveying compared to using scaffolding or motorised elevated platforms.
ODS has invested in an off-the-shelf DJI Phantom 4 Advanced quadcopter drone that is flown using a remote controller with built-in screen. It offers up to 30 minutes of flight time per battery and comes with dual-band satellite positioning – GPS and GLONASS – five vision sensors for obstacle detection and is equipped with a 1in 20MP camera capable of shooting 4K super high-definition video and stills.
UK-based company 3D Laser Mapping provides LiDAR scanning hardware and data analysis systems for mapping large structures. They capture, process and provide 3D information for surveying tasks such as buildings, road networks and railways, as well as creating digital terrain and elevation models of specific landscapes.
Harsh environments
For particularly harsh environments such as underground construction projects or concrete spraying, the firm offers its ProcessMonitor Live and 3DLM-SR-50 laser scanner package.
The SR-50 features a LiDAR-based scanner and sensing unit that scans in a vertical direction over 160°, while its horizontal positioning is handled by a McLennan single-axis motion solution through 0.25° start-stop increments and a full range of 160°. The unit interacts with the ProcessMonitor Live software to analysis the imagery in real-time.
For example, the system can be used to monitor the spraying of concrete as a tunnel lining. The amount of material sprayed can be constantly monitored and optimised by measuring the level of displacement during the process. This was said to guarantee the correct thickness of material, which is important for safety, while also ensuring that waste is minimised.
The unit is controlled and data is acquired remotely over an Ethernet link, and it is normally mounted on mobile construction machinery.
Vehicle-mounted scanners are also being used by Topcon in its SmoothRide solution. The company recently used the 3D technology to resurface a 1.4km long and 31m wide strip of the west runway at Frankfurt airport in Germany in just five days and six nights.
Strabag, the contractor responsible for the works, was faced with particularly tight time constraints since it is the busiest runway at the airport and high traffic during the day meant that milling could only be conducted at night. In addition, the tight security at the airport meant that every truck and all 100 workers had to go through security checks upon entering the construction site.
Also, the project was further complicated by the fact that a 31m wide strip was being replaced on a runway that was 45m wide in total, so the new surface needed to connect to the old one without any irregularities.
The process began with a survey of the area, which was conducted using one of Topcon's RD-M1 scanners attached to the back of a vehicle. It took about three hours to scan the 45,000m2 area in 2cm resolution, providing a concise and accurate model of the runway.
The point cloud generated by the scanner was transferred first to Topcon's Magnet Collage software for processing, and then to the Magnet Office Resurfacing programme, which was used for the actual planning. Although the data was transferred using USB sticks in this particular project, Topcon's SiteLink management system can potentially be used to transfer data online directly from the planning software to the milling machines.
Milling with variable depth, the machines could be guided by the 3D model to adjust the depth to which they were milling, taking out only as much material as was necessary. In this way, an even surface could be obtained in a single pass, meaning less time was taken and the machines sustained less wear. In total, 16,000 tonnes of asphalt were removed.
Project leader Karsten Dietrich said, "The machine control of the milling machines was to be done without using any optical instruments. That was the only way to ensure that six milling machines were able to work simultaneously and exactly."
This illustrates how surveying – along with other processes in construction projects – are becoming more aligned as a result of digital technologies.
Next generation
Trimble claims to be defining the next generation of data collection and computing for mobile workers with the announcement of its new TSC7 Controller, which is a field solution for land and civil construction surveyors.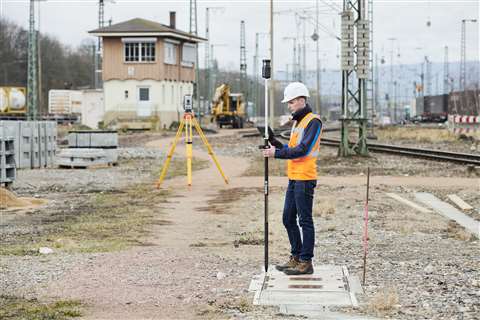 Designed based on customer feedback, Trimble's TSC7 was said to provide a tablet experience with a physical keyboard and a sunlight-readable 7in touchscreen that supports pinch, tap and slide gestures for intuitive use.
Also, front- and rear-facing cameras allow users to video conference their office from the field for on-the-job support, and capture high-resolution videos and images that provide context to their data for clients.
The TSC7 was also said to leverage the power of Windows 10 Professional, driven by an Intel Pentium 64-bit quad-core processor. The processor and operating system make it easy to process data in spreadsheets and run office software programs.
Also, the ergonomic, IP68-certified rugged design and optional user-interchangeable modules were said to make the TSC7 a flexible solution.
In addition to the TSC7 Controller, Trimble has also released two new rover systems for civil engineering and construction applications – the Trimble Siteworks Positioning System for Construction Surveyors and the Trimble Siteworks Positioning System for Supervisors.
Both systems feature new Trimble Siteworks Software tailored for construction workflows. Redesigned from the ground up, Siteworks Software has been optimised for ease-of-use and productivity with a new interface that includes configurable views and colourful graphics.
Scott Crozier, general manager of Trimble's civil engineering and construction division, said, "Siteworks gives customers the ability to work with larger, more complex 3D data sets more effectively in the field."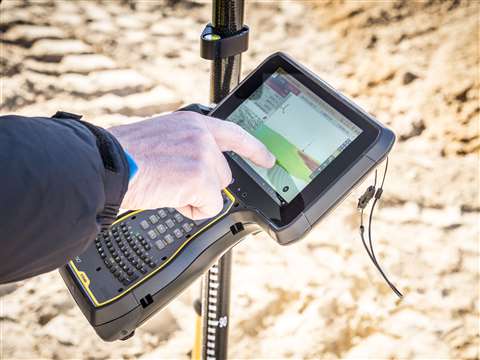 He added, "Powerful hardware, intuitive software and the latest advances in site positioning technology from Trimble prepare contractors for the future of 3D construction."
The Trimble Siteworks Positioning System for Construction Surveyors is comprised of the Trimble SPS986 GNSS Smart Antenna, the TSC7 Controller and Siteworks software, while the Trimble Siteworks Positioning System for Supervisors is comprised of the SPS986 GNSS Smart Antenna, the Trimble T10 Tablet and Siteworks Software.
The Trimble Siteworks Positioning System for Supervisors was said to enable construction supervisors to run full office software packages, including Business Center-HCE and Microsoft Office, and to work with data and 3D models in the field without carrying a laptop.
A new tablet has also been introduced by Leica Geosystems, which has chosen to use Getac's rugged ZX70 Android tablet for its new Zeno GG04 plus tablet solution.
Leica Geosystems has recently developed a range of new software and hardware including its Zeno Mobile data collection app and Zeno GG04 plus smart antenna, designed to help customers capture accurate geospatial data quickly and effectively in the field. It was said that the partnership with Getac would enable Leica Geosystems to bring comprehensive geospatial data collection capabilities to its customers in all terrains and weather conditions.
Alexander Fischer, senior product manager for asset collection and management at Leica Geosystems, said, "The Getac ZX70 provides the missing piece of the puzzle for the complete surveying solution we wanted to bring to our customers."
He added, "Customers can be confident of optimal performance, regardless of the environment they're in or the weather conditions faced."
High-accuracy Global Navigation Satellite System (GNSS) positions can be used and rich attribute data can be collected in the field. Also, any authorised Android app can be installed on the device, depending on the required workflow or back-office systems used, which was said to bring a high level of usability and familiarity straight out of the box.
The LumiBond 2.0 touchscreen allows the tablet to be operated in the rain and even when wearing gloves, which is helpful for outdoor surveying work. Also, Getac ZX70's integrated 4G modem makes it possible to transmit large data files quickly, even from remote locations. The fast, stable and reliable data connection was also said to allow surveyors to use Hexagon Geosystems' HxGN SmartNet correction service, so that GNSS measurements are accurate to within 1cm.
Robust tools
Bosch has also introduced a robust measuring tool for use on construction sites – the GLM 120 C Professional Rangefinder.
It was said to be the first Bosch laser rangefinder with a 5MP camera as the viewfinder. This has allowed it to have an integrated zoom function to solve the common problem of target invisibility, which is often experienced in outdoor conditions. As well as lengths, widths and heights, the GLM 120 C is also able to measure inclines, areas and volumes.
The device has an accuracy of +/- 1.5mm at a range of 120m, and it offers rapid data sharing via Bosch's Bluetooth-based connectivity. The device also comes with GLM Transfer Software that was said to make it easy to copy data and pictures from the tool's own memory to a laptop or PC.
The Measuring Master app is said to have been designed to offer intuitive operation and versatile functions, giving users access to a range of useful recording, processing and sharing functions to speed up workflow. In addition, the device has a 7cm colour screen, with a flip display, to give it a familiar smartphone look.
Another benefit is the fact that the need for assistance from a second person is eliminated by the fact that the laser measure can be operated remotely from a range of about 10m through a smartphone or tablet.
One particular advantage offered by digital 3D models is that they can detect – and therefore help to prevent – clashes between various elements of a design.