Surveying: Simplifying technology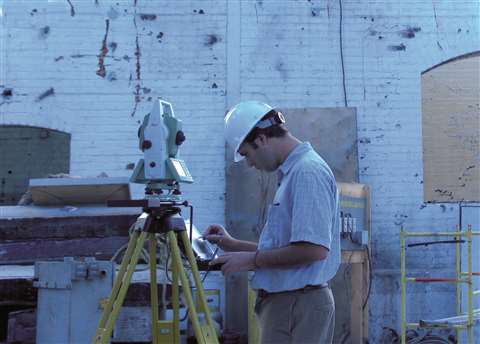 Surveying equipment manufacturers are simplifying new products for the construction industry as contractors are increasingly carrying out surveying tasks themselves. Becca Wilkins reports.
A trend in the construction sector seems to be that contractors are conducting more of their own layout work, rather than using surveyors. In order to ease the processes, manufacturers are making surveying instruments with simplified software, familiar interfaces and technology that enables the transfer of data between the office and the field.
Pocket Layout software from Topcon, is designed to "seamlessly" guide contractors through layout tasks, according to US-based Murray Lodge, director of Topcon construction sales.
"Pocket Layout was developed by contractors for contractors looking for powerful performance in a simple, straightforward design. Even those new to layout will find that Pocket Layout provides them with information, displayed simply and clearly, to guide them through the steps necessary to complete restaking, topo, grade checking and as-built chores quickly, easily, and accurately," he added.
Meanwhile, Leica's next-generation software, The Leica Cyclone II TOPO, creates topographic maps from laser scan data for standard computer aided design (CAD) technicians. The product does not require specialist 3D or laser scanning skills,
a spokesman for Leica said. He added the company's High-Definition Surveying (HDS) laser scanners and software are increasingly used for surveying sites and structures to capture the "as-is" or "as-built" condition with "extraordinary detail."
"The resulting laser scan data sets have, however, been considered by many as challenging for non-specialists to process into traditional 2D topographic maps. Leica Cyclone II TOPO overcomes this office processing hurdle, allowing everyday CAD technicians to create maps from laser scan data as fast as or even faster than making maps from survey data collected conventionally," he added.
Easy interfaces
Leica Cyclone II TOPO features a familiar map-like, top-down user interface, which can automatically generate associated cross-section and isometric views of the same map area.
"In addition to the friendly, efficient viewing interface, new SmartPick tools let CAD technicians automatically extract specific, desired scan points from clusters of laser scan data with a single click. Previously, users had to spend time manually navigating in 3D and then visually selecting what appeared to be the highest and lowest points," the spokesman said.
Topcon's Pocket Layout also has an easy-to-use interface allowing contractors to be self sufficient in layout and basic measurement tasks, according to Mr Lodge.
Meanwhile, the latest robotic total station from Topcon - the Imaging Station (IS) is based on a Windows environment making it easier for the contractor to get started and integration with the office "seamless", according to a company spokesman.
"The Imaging station combines robotic survey, 3D scanning and video technologies in one compact versatile easy to operate instrument. It provides precise reflectorless measurement up to 2000 m, the longest in the industry, and the highest speed with up to 20 points per second," the spokesman said.
The integrated through-the-lens, dual digital camera imaging technology captures reality with wide angle and 30 x optical zoom capabilities and when used in conjunction with the built-in scanning feature, it provides a system that offers automation of a much-higher priced laser scanner, he added.
With digital imaging software, contractors can combine multiple job site photos, create 3D models and point clouds.
"In five years time this technology will be the only technology - video and digital cameras are much less expensive to manufacture than any other highly precise lenses," Jason Killpack, senior product marketing manager for Topcon positioning systems in the US, told iC.
He added regular mechanical total stations are efficient and accurate tools, "but this (IS) does it one better because every time it measures it also takes a picture - so you know exactly where you are on the ground."
Workflow focus
Alan Sharp, segment manager for Trimble's construction division site positioning systems, told iC the company aims to make the equipment usable for the contractor and make the work flow from the office to the field and then back again.
New wireless capabilities in the Trimble LM80 Layout Manager incorporate new controller and office software allowing for real-time two-way data transfer between the project design team in the office and the contractors at the job site. This increases efficiency and productivity, a spokesman for Trimble said.
"The wireless capabilities are designed to provide contractors accurate control of their building layout, especially jobs with various design elevation elements," the spokesman said.
Design engineers can make changes immediately available to the contractor, and the contractor can transfer in real-time "as-builts" to communicate progress reports and problems, he added.
Skills shortage
It is often difficult for contractors leading construction projects to source qualified surveyors and so, "although they don't have the same qualifications, the contractor has to do a certain amount of the surveyor's job himself," Mr Sharp said. This minimises costs and keeps everything under his control," he added.
The current skills shortage in the surveying sector has led Trimble and other manufacturers to divide up their products into those used by qualified surveyors and those more suitable for contractors in the construction industry.
Mr Sharp said, "The whole philosophy of a construction site is changing - there's no stakes in the ground, machines are automatic and now surveying is more about just checking the machine is doing what it is supposed to by taking some measurements behind it."
Ian Stilgoe, product manager for Topcon, said the industry's shortage of skilled workers is driving new product development and the focus over recent years has been to simplify equipment while increasing productivity.
Future product development will continue to focus on making products easier to operate, faster to use and more productive and this will include combining imaging technology and traditional methods, he said.
Outlook
Manufacturers of surveying instruments claim simple product design combined with the latest technology allows construction site contractors to use the equipment more easily. This ultimately reduces mistakes being made in the field, increases productivity and efficiency and saves time and money.
Mr Killpack said, "In the layout business we are taking computer plans and putting them into equipment that allows the field technician to actually put that computer drafted plan on to the ground instead of pulling tape measures, and hanging plumb-bobs - so we are increasing the efficiency. As far as where the future goes this technology is so critical for productivity, especially with fuel and labour costs rising and skilled labour in short supply. You have to have this technology in order to be competitive."
Mr Sharp said Trimble's goal is to completely eliminate re-work from the jobsite.
He said, "Today re-work comes because you have the wrong design information, because the machines are out of calibration, or because of surveyors' mistakes. So by going to fully automated machine control and by getting digital downloads built correctly in the first place you can start the process of eliminating mistakes."